About Selecting a Vibrator
Super-Quiet

Electric Vibrators for Dry Materials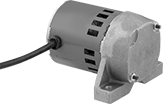 With Open
Fan-Cooled
Motor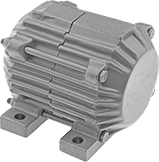 With Totally Enclosed Nonventilated Motor

With Totally
Enclosed
Fan-Cooled
Motor
The quietest vibrators we offer, these produce less noise than normal conversation. They're often used to stimulate the flow of powders and flakes through chutes, parts feeding tracks, and screens. Every 10 pounds of dry material requires one pound of force to move it. If your bin has 200 pounds of dry material, you need a vibrator with at least 20 pounds of force.
Vibrators with a totally enclosed motor stand up to splashing water, dusty environments, and outdoor use. They are not submersible.
For technical drawings and 3-D models, click on a part number.
For Content


Weight,




lbs.

Force,




lbs.

Vibration


Speed,


VPM
Current

Frequency,


Hz

Volume,


dB
Motor
Enclosure
Type
Cord


Lg.,




ft.

No.


of

Dia.

Ctr.-to-Ctr.

Wd.

Ht.

Dp.

Each

120V AC Single

Phase—

Three Prong Plug

Aluminum

80
8
1,600
0.4A
60
45
Open Fan Cooled
3
2

3/8

"
4"
5"
3

1/2

"
5"
0000000
0000000
150
15
1,600
0.4A
60
45
Open Fan Cooled
3
2

3/8

"
4"
5"
3

1/2

"
5"
0000000
000000
200
20
3,200
0.7A
60
45
Totally Enclosed Nonventilated
3
4

3/8

"
2

3/4

", 4

3/4

"
5

3/8

"
6

1/2

"
5

1/2

"
00000000
000000
200
20
3,200
0.7A
60
48
Open Fan Cooled
3
2

3/8

"
4"
5"
3

1/2

"
5"
0000000
000000
600
60
3,200
0.7A
60
48
Totally Enclosed Nonventilated
3
4

3/8

"
2

3/4

", 4

3/4

"
5

3/8

"
6

1/2

"
5

1/2

"
00000000
000000
800
80
3,200
0.7A
60
50
Totally Enclosed Nonventilated
3
4

3/8

"
2

3/4

", 4

3/4

"
5

3/8

"
6

1/2

"
5

1/2

"
00000000
000000

Aluminum/Glass-Filled

Nylon

Plastic/Steel

250
25
1,600
1.1A
60
45
Totally Enclosed Fan Cooled
3
2

3/8

"
5"
7"
4

1/4

"
6"
0000000
000000
600
60
3,200
1.3A
60
48
Totally Enclosed Fan Cooled
3
2

3/8

"
5"
7"
4

1/4

"
6"
0000000
000000
800
80
3,200
1.4A
60
50
Totally Enclosed Fan Cooled
3
2

3/8

"
5"
7"
4

1/4

"
6"
0000000
000000