Static-Shielding

Press-to-Close

Bags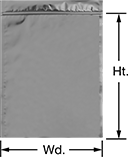 Provide multilayered protection for static-sensitive electronic components. They are made of amine-free polyethylene with an additive that prevents static build-up. The outer layer is coated polyester to protect against static discharge.
Bags with an aluminum middle layer prevent static from passing through and protect against EMI/RFI static fields and moisture.
Note: One mil equals 0.001".
Wd.

Ht.

Thick.,


mil
Clarity
Color
Material
Outer
Layer
Material
Specifications
Met

Pkg.




Qty.

Pkg.

Aluminum Middle Layer

6"
8"
3.6
Semi-Clear
Silver
Polyethylene Plastic
Polyester Plastic
MIL-PRF-81705 Type I
10
0000000
000000
8"
10"
3.6
Semi-Clear
Silver
Polyethylene Plastic
Polyester Plastic
MIL-PRF-81705 Type I
10
0000000
00000
10"
12"
3.6
Semi-Clear
Silver
Polyethylene Plastic
Polyester Plastic
MIL-PRF-81705 Type I
5
0000000
00000
12"
15"
3.6
Semi-Clear
Silver
Polyethylene Plastic
Polyester Plastic
MIL-PRF-81705 Type I
5
0000000
00000