Mouse and Rat Bait Stations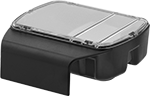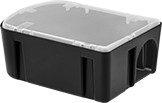 These stations have a semi-clear lid to check the poison.
The 5" long station is for mice. It is refillable and includes eight blocks of poison.
The 8" long station is disposable and includes one poison block sealed inside. It is large enough for both mice and rats.
They cannot be sold outside of the United States due to import regulations.