Connect devices such as computers, printers, and mobile devices. The higher the USB standard, the faster cords can transmit data. These cords are backward compatible, so they work with cords and connectors that meet the same or lower USB standard.
Use power cords to charge devices.
Double-shielded cords block signal interference from nearby equipment and devices.
A Plug × Micro-B Plug, C Plug, and Two Apple-Compatible Plugs

A Plug ×
Micro-B
Plug,
C
Plug,
and Two
Apple-Compatible
Plugs
Barrel-Style

DC Power Cord Splitters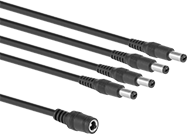 Send DC power to multiple electronics from one source. With industry standard barrel-style connections, these splitters are compatible with many power supplies and other devices.
Current,


A
Voltage
Housing
Connection
Type
Wire
Gauge
For Plug
End

ID,


mm
For Plug
End

OD,


mm
Cord
OD
Wire
Gauge
End


ID,


mm
End


OD,


mm
End


Lg.,


mm
Cord
OD
Color

Lg.

Cord
Insulation
Material

Temp.




Range,




°F

Specifications
Met
Each
2
12V DC
Push In
22
2.1
5.5
0.16"
22
2.1
5.5
11
0.12"
Black
12"
PVC Plastic
25° to 175°
UL Listed

00000000
00000
2
12V DC
Push In
20
2.5
5.5
0.16"
20
2.5
5.5
9
0.12"
Black
20"
PVC Plastic
25° to 175°
UL Listed

00000000
0000