Nail Set Punch Sets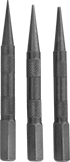 Set nails flush or drive them out of view without damaging wood surfaces.
No.

of
Pieces
Includes
Overall


Lg.

Material
Each
3

1/32

" Point Diameter Punch


1/16

" Point Diameter Punch


3/32

" Point Diameter Punch
4"
Steel
000000
000000
Multifunction Steel Blade Putty Knives

Rubber Ergonomic Handle
Use these knives as spreaders, scrapers, and paint-roller cleaners. They have a beveled edge for removing thin coatings.
Ergonomically designed, rubber handle putty knives fit your hand comfortably to minimize fatigue. Fold and lock the blade on these knives closed with the push of a button. Use them to open cans, pull nails, remove caulk, and scrape curved surfaces.
Wd.

Lg.

Thick.

Shape
Overall


Lg.

Flexibility
Handle


Lg.

Features
Each

Beveled Edge

Rubber Handle

1

1/2

"
3

1/2

"
0.069"
Straight
8

1/2

"
Rigid
4"
Ergonomic Handle, Folding Blade, Locking Blade
000000
000000