Ultra-Strength

718 Nickel Rods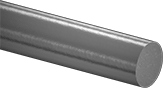 Yield

Strength:

70,

000 psi

Hardness:

Rockwell B95

(Medium)

Temper

Rating:

Softened

(Annealed)

Specifications

Met:

ASTM

B637,

SAE AMS5662
Often used for cryogenic tanks and fasteners, 718 nickel will maintain its high strength in temperatures from -300° to 1200° F, even after long-term exposure. It can be further strengthened by heat treating. This material is comparable to Inconel 718.
For technical drawings and 3-D models, click on a part number.

Certificates with a traceable lot number are available for these products. Download certificates from ORDER HISTORY after your order ships.
Dia.

Dia.

Tolerance
Heat
Treatable

Max.

Hardness after
Heat Treatment

1/2

ft.




Lg.

1 ft.




Lg.

3 ft.




Lg.

3/8

"
-0.002" to 0.002"
Yes
Rockwell C40
000000

1/2

"
-0.002" to 0.002"
Yes
Rockwell C40
000000

5/8

"
-0.002" to 0.002"
Yes
Rockwell C40
000000

3/4

"
-0.002" to 0.002"
Yes
Rockwell C40
000000
1"
-0.003" to 0.003"
Yes
Rockwell C40
000000
1

1/2

"
-0.003" to 0.003"
Yes
Rockwell C40
000000
2"
-0.003" to 0.003"
Yes
Rockwell C40
000000