Non-Contact

Vacuum Lifters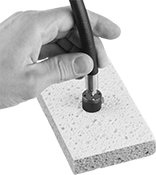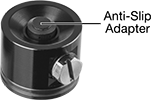 Lifter and Adapter Sold Separately
Lift and move porous, uneven, and delicate items without damaging them. Unlike other vacuum lifters, which seal to the surface of your workpiece, these lifters pick up items without touching them. Also known as Bernoulli lifters, they use a compressed air source to create suction, so you don't need a separate vacuum generator. They're also low-maintenance—they don't use vacuum cups, and the durable steel housing is built for a long service life.
If your workpiece is uneven, it may touch the lifter surface as it moves. To create a soft area for your object to touch, add anti-slip adapters to the lifter face. These rubber discs gently press against your workpiece, adding enough friction to keep it from slipping and dropping.
Capacity and air consumption are based on lifting a flat workpiece horizontally.
Warning: Never use to lift people or items over people.
For technical drawings and 3-D models, click on a part number.
Capacity
@ 70
psi
Air
Consumption
@ 70 psi
For
Use
With

Dia.,


mm

Ht.,


mm
Bolt
Circle


Dia.,

mm

Wt.

Thread
Size

Pipe
Size

Thread
Type
Gender

Min.

Max.

Each
Each

For

Oily,

Smooth,

and Textured Surfaces

Steel Pads

0.29 lbs. / 0.13 kg
2.8 scfm
Electronics, Plastic
20
16
15
0.03 lbs. / 0.01 kg
M5

__
Metric

Female
32°
140°
0000000
0000000
0000000
000000
0.29 lbs. / 0.13 kg
2.8 scfm
Electronics, Plastic
20
16
15
0.03 lbs. / 0.01 kg
M5

__
Metric

Female
32°
140°
0000000
000000
0000000
00000
1.15 lbs. / 0.52 kg
4 scfm
Electronics, Plastic
40
20
30
0.13 lbs. / 0.06 kg
__

1/8

BSPT

Female
32°
140°
0000000
000000
0000000
00000
1.15 lbs. / 0.52 kg
4 scfm
Electronics, Plastic
40
20
30
0.13 lbs. / 0.06 kg
__

1/8

NPS
Female
32°
140°
0000000
000000
0000000
00000
1.91 lbs. / 0.87 kg
4.7 scfm
Electronics, Plastic
60
20
30, 50, 50
0.23 lbs. / 0.1 kg
__

1/8

BSPT

Female
32°
140°
0000000
000000
0000000
00000
1.91 lbs. / 0.87 kg
4.7 scfm
Electronics, Plastic
60
20
30, 50, 50
0.23 lbs. / 0.1 kg
__

1/8

NPS
Female
32°
140°
0000000
000000
0000000
00000
5.51 lbs. / 2.5 kg
8.6 scfm
Electronics, Plastic
80
25
30, 70, 70
0.38 lbs. / 0.17 kg
__

1/4

BSPT

Female
32°
140°
0000000
000000
0000000
00000
5.51 lbs. / 2.5 kg
8.6 scfm
Electronics, Plastic
80
25
30, 70, 70
0.38 lbs. / 0.17 kg
__

1/4

NPS
Female
32°
140°
0000000
000000
0000000
00000
8.81 lbs. / 4 kg
8.6 scfm
Electronics, Plastic
100
25
30, 90, 90
0.51 lbs. / 0.23 kg
__

1/4

BSPT

Female
32°
140°
0000000
000000
0000000
00000
8.81 lbs. / 4 kg
8.6 scfm
Electronics, Plastic
100
25
30, 90, 90
0.51 lbs. / 0.23 kg
__

1/4

NPS
Female
32°
140°
0000000
000000
0000000
00000