Nonsparking Properties

Nonsparking Properties
DFARS (Defense Acquisition Regulations Supplement)

DFARS

(Defense

Acquisition

Regulations

Supplement)
REACH (Registration, Evaluation, Authorization and Restriction of Chemicals)

REACH

(Registration,




Evaluation,

Authorization
and Restriction of

Chemicals)
RoHS (Restriction of Hazardous Substances)

RoHS

(Restriction

of
Hazardous

Substances)
Specifications Met

Specifications Met
Nonsparking Pry Bars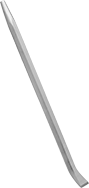 Offset Chisel End x Straight Round End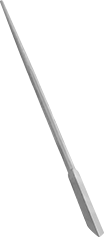 Straight Chisel End x Straight Round End
Chisel End

Round End
Made of aluminum-bronze that is Factory Mutual approved, these tools inhibit sparking and are nonmagnetic and corrosion resistant. They satisfy OSHA requirements that specify nonsparking tools for locations where flammable vapors and combustible residues are present.
Pry bars with an offset end give you more leverage than a straight end.
Warning: Do not use these tools in direct contact with acetylene.
Overall


Lg.

Weight,




lbs.

Size
Shape
End

Wd.

Material
Specifications
Met
Each

Offset Chisel End × Straight Round End

18"
2

1/4

3/4

"
Hex

1/2

" × 1"
Aluminum-Bronze
FM Approved

000000
000000
30"
5

1/2

7/8

"
Hex

1/2

" × 1

1/8

"
Aluminum-Bronze
FM Approved

000000
000000
36"
9
1"
Hex

1/2

" × 1

3/8

"
Aluminum-Bronze
FM Approved

000000
000000

Straight Chisel End × Straight Round End

60"
19
1

1/4

"
Square

3/4

" × 1

1/4

"
Aluminum-Bronze
FM Approved

000000
000000