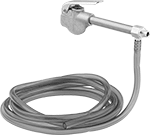 With Straight Nozzle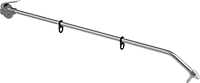 With Angled Nozzle
Also known as a siphon gun, this blowgun sprays air and liquids at the same time. Push the lever and the airflow creates suction that draws water, cleaning solution, or other liquids through the hose.
Blowguns that conform to OSHA 29 CFR 1910.242 meet requirements for maximum air outlet pressure.
Note: Do not use with flammable liquids.
Nozzle


Lg.

Air
Consumption
Volume

Max.

Inlet


Pressure,


psi
Pipe
Size

Thread
Type
Gender
Maximum
Flow
Rate
Liquid
Inlet
Gender
For Liquid
Inlet Hose
ID
Body
Material
Nozzle
Tip
Material
ID

Lg.,




ft.

Specifications
Met
Each

Straight with Straight Nozzle

4

1/2

"
14 cfm @ 100 psi
Not Rated
150

1/4

NPT

Female
Not Rated
Male

1/4

"
Zinc
Aluminum

1/4

"
8
__
0000000
000000

Straight with Angled Nozzle

16

1/2

"
10 cfm @ 100 psi
Not Rated
225

1/4

NPT

Female
Not Rated
Male

1/4

"
Aluminum
Aluminum

1/4

"
5
OSHA Compliant 29 CFR 1910.242
0000000
00000
24"
11 cfm @ 100 psi
Not Rated
150

1/4

NPT

Female
Not Rated
Male

1/4

"
Zinc
Aluminum

1/4

"
1
__
0000000
00000
48"
11 cfm @ 100 psi
Not Rated
150

1/4

NPT

Female
Not Rated
Male

1/4

"
Zinc
Aluminum

1/4

"
15
__
0000000
00000