Extended-Reach

Air Nozzles
The extra length allows access into hard-to-reach areas. Volume (dB) is measured 3 ft. from the nozzle at 80 psi.
Nozzles with tube connection can be bent to direct airflow, flared, soldered, or used with compression tube fittings.
Nozzles that meet OSHA 29 CFR 1910.242 conform to requirements for maximum air outlet pressure.
For technical drawings and 3-D models, click on a part number.

A

B

C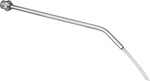 D
O'all




Lg.

Pipe
Size

Thread
Type
Tube
OD
Tube
Connection
Type
Gender
Air
Consumption

Max.




Temp.,




°F

Volume,


dBA
Tip
OD

Max.

Inlet


Pressure,


psi
Material
Tip
Material
Specifications
Met
Each
A
6

1/2

"

1/8

NPS
__
__
Male
Not Rated
140°
90

3/16

"
90
Brass

__
__
0000000
00000
A
8

1/2

"

1/8

NPS
__
__
Male
__
140°
90

3/16

"
90
Brass

__
__
0000000
00000
A
12

1/2

"

1/8

NPS
__
__
Male
__
140°
90

3/16

"
90
Brass

__
__
0000000
00000
A
18

1/2

"

1/8

NPS
__
__
Male
__
140°
90

3/16

"
90
Brass

__
__
0000000
00000
B
6

3/8

"

1/8

NPT

__
__
Male
13 cfm @ 100 psi
150°
87

5/16

"
150
Steel
__
OSHA Compliant 29 CFR 1910.242
0000000
00000
B
8

3/8

"

1/8

NPT

__
__
Male
13 cfm @ 100 psi
150°
87

5/16

"
150
Steel
__
OSHA Compliant 29 CFR 1910.242
0000000
00000
B
12

3/8

"

1/8

NPT

__
__
Male
13 cfm @ 100 psi
150°
87

5/16

"
150
Steel
__
OSHA Compliant 29 CFR 1910.242
0000000
00000
B
16

3/8

"

1/8

NPT

__
__
Male
13 cfm @ 100 psi
150°
87

5/16

"
150
Steel
__
OSHA Compliant 29 CFR 1910.242
0000000
00000
B
18

3/8

"

1/8

NPT

__
__
Male
13 cfm @ 100 psi
150°
87

5/16

"
150
Steel
__
OSHA Compliant 29 CFR 1910.242
0000000
00000
B
24

3/8

"

1/8

NPT

__
__
Male
13 cfm @ 100 psi
150°
87

5/16

"
150
Steel
__
OSHA Compliant 29 CFR 1910.242
0000000
00000
B
36

3/8

"

1/8

NPT

__
__
Male
13 cfm @ 100 psi
150°
87

5/16

"
150
Steel
__
OSHA Compliant 29 CFR 1910.242
0000000
00000
C
6"
__
__

1/4

"
Solder
Male
9 cfm @ 100 psi
160°
Not Rated

3/8

"
150
Copper

Brass
OSHA Compliant 29 CFR 1910.242
0000000
00000
C
8"
__
__

3/8

"
Solder
Male
13 cfm @ 100 psi
160°
Not Rated

1/2

"
150
Copper

Brass
OSHA Compliant 29 CFR 1910.242
0000000
00000
C
8"
__
__

3/8

"
Solder
Male
31 cfm @ 100 psi
160°
Not Rated

1/2

"
150
Copper

Brass
OSHA Compliant 29 CFR 1910.242
0000000
00000
D
6"

1/8

NPT

__
__
Male
__
140°
Not Rated

3/16

"
120
Brass

__
__
0000000
0000
D
12"

1/8

NPT

__
__
Male
__
140°
Not Rated

3/16

"
120
Brass

__
__
000000
0000
D
18"

1/8

NPT

__
__
Male
__
140°
Not Rated

3/16

"
120
Brass

__
__
0000000
00000