Plastic-Body

Extended-Reach

Blowguns
Lightweight and more comfortable to hold than metal-body blowguns, these also have a long nozzle to access hard-to-reach areas. Pull the trigger to adjust the airflow rate from a puff to a blast. Volume is measured 3 ft. from the blowgun at 100 psi.
Tapered nonmarring nozzle tips won't damage your workpiece.
All safety nozzle tips have holes around the circumference so air can escape if the nozzle is blocked.
Safety nozzle tip cannot be removed once installed on a blowgun.
Safety nozzle tip with chip guard creates an air curtain around the airstream to deflect flying chips and dust.
High-flow nozzle tip amplifies the airflow to double that of other nozzles. It cannot be removed once installed on a blowgun.
Chip shield fits over the blowgun nozzle to protect the user from flying debris.
Guns used with tips that meet OSHA 29 CFR 1910.242 will conform to requirements for maximum air outlet pressure.

Blowgun
Nozzle


Lg.

Air
Consumption
Volume

Max.

Inlet


Pressure,


psi
Pipe
Size

Thread
Type
Gender
Body
Material
Nozzle
Tip
Material
Each
Each

Pistol

6"
10 cfm @ 100 psi
90 dBA
150

1/4

NPT

Female
Plastic
Brass
0000000
000000
0000000
000000
13"
22 cfm @ 100 psi
94 dB
230

1/4

NPT

Female
Plastic
Brass
0000000
00000
0000000
00000
18"
10 cfm @ 100 psi
90 dBA
150

1/4

NPT

Female
Plastic
Brass
0000000
00000
0000000
00000
20"
22 cfm @ 100 psi
94 dB
230

1/4

NPT

Female
Plastic
Brass
0000000
00000
0000000
00000
24"
10 cfm @ 100 psi
90 dBA
150

1/4

NPT

Female
Plastic
Brass
0000000
00000
0000000
00000
36"
10 cfm @ 100 psi
90 dBA
150

1/4

NPT

Female
Plastic
Brass
0000000
00000
0000000
00000
Nozzle Tips for 22 cfm Blowguns

Tapered Nonmarring

Safety

Safety with Chip Guard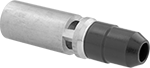 High Flow
Dia.

Volume,


dB
Specifications Met
Material
Each

Tapered Nonmarring

1/2

"
98
__
Rubber
0000000
00000
1"
98
__
Rubber
0000000
00000
1

5/16

"
98
__
Rubber
0000000
00000

Safety

1/2

"
94
OSHA Compliant 29 CFR 1910.242
Aluminum
0000000
00000

Safety with Chip Guard

1/2

"
86
OSHA Compliant 29 CFR 1910.242
Aluminum
0000000
00000

13/16

"
82
OSHA Compliant 29 CFR 1910.242
Acetal Plastic
0000000
00000

High Flow

9/16

"
95
OSHA Compliant 29 CFR 1910.242
Aluminum
0000000
00000