About Pipe Size and Spray Nozzles

Sanitary Rotating
Tank-Washing

Nozzles
Designed for food, pharmaceutical, and other sanitary environments, these nozzles rotate and have a 360° spray pattern to clean tanks and vessels more thoroughly and effectively than stationary nozzles.
316 stainless steel nozzles have a dual-nozzle design, which means there are two high-impact streams of spray for removing stubborn residues, such as dried-on ingredients. They will not corrode from frequent washdowns with harsh cleaners and sanitizers. All have polished surfaces and enclosed gears, minimizing the space where bacteria can grow. Gears control the rotation speed of these nozzles. They don't clean as fast as the PTFE nozzles, which are free-spinning, but they do allow added contact time with residues for more thorough cleaning. All of these nozzles can be installed vertically. Those with a maximum tank diameter of 30 ft. can also be installed at a 45° angle.
Often used in clean-in-place (CIP) systems, PTFE nozzles are 3-A certified to meet sanitary design standards. They're more chemical resistant than 316 stainless steel nozzles to handle frequent washdowns with the harshest cleaners and sanitizers. They're also self-draining and have a pin connection, which means they have no threads, to reduce the risk of bacteria growth. Water pressure controls the rotation speed of these free-spinning nozzles. They'll clean faster than the 316 stainless steel nozzles, but not as thoroughly on tough residues. These nozzles can be installed in any position. Slip them over your supply pipe and secure them in place with the pin. Your supply pipe must have a through-hole that matches the pin diameter.
For technical drawings and 3-D models, click on a part number.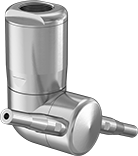 Multiple Stream

Spray Angle
@ 60


psi

@ 100


psi

@ 150


psi

@ 200


psi

@ 300


psi

Max.


Tank


Dia.,

ft.

Orifice


Dia.

Overall


Wd.

Lg.

Max.




Pressure,


psi

Max.




Temp.,




°F

Spray
Angle
Interior
Exterior
Each

3/4

NPT Female

__
__
17
20
24
30
0.23"
2"
6

1/4

"
300
250
360°
32
32
0000000
000000000
27
34
41
47
__
50
0.31"
3

7/16

"
13

1/8

"
200
250
360°
32
32
0000000
00000000
63
79
94
107
__
50
0.44"
3

7/16

"
13

1/8

"
200
250
360°
32
32
0000000
00000000
PTFE Plastic with Pin Connection

PTFE Plastic

Multiple Stream

Spray Angle
@ 15


psi

@ 25


psi

@ 40


psi

Max.


Tank


Dia.,

ft.

Orifice


Dia.

Pin


Dia.

Overall


Wd.

Lg.

Max.




Pressure,


psi

Max.




Temp.,




°F

Spray
Angle
Specifications
Met
Each
9
12.7
18
18
0.09"

1/8

"
2

1/4

"
3

11/16

"
50
200
360°
3-A Certified 78-01

0000000
0000000
11.5
16.3
23
18
0.11"

1/8

"
2

1/4

"
3

11/16

"
50
200
360°
3-A Certified 78-01

0000000
000000
16
22.6
32
18
0.15"

1/8

"
2

1/4

"
3

11/16

"
50
200
360°
3-A Certified 78-01

0000000
000000
23
32.5
46
18
0.26"

1/8

"
2

1/4

"
3

11/16

"
50
200
360°
3-A Certified 78-01

0000000
000000
16.5
23
33
18
0.15"

1/8

"
2

3/4

"
4

1/8

"
50
200
360°
3-A Certified 78-01

0000000
000000
25
35.4
50
18
0.21"

1/8

"
2

3/4

"
4

1/8

"
50
200
360°
3-A Certified 78-01

0000000
000000
35
49.5
70
18
0.27"

1/8

"
2

3/4

"
4

1/8

"
50
200
360°
3-A Certified 78-01

000000
000000
27
37
53
18
0.2"

1/8

"
3

5/8

"
5

3/8

"
50
200
360°
3-A Certified 78-01

0000000
00000000
35
49.5
70
18
0.27"

1/8

"
3

5/8

"
5

3/8

"
50
200
360°
3-A Certified 78-01

0000000
00000000