Chemical-Resistant

Viton® Fluoroelastomer

O-Ring

Assortments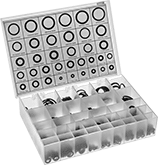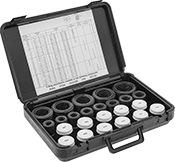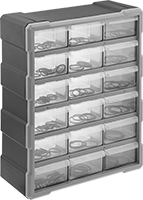 All of the O-rings in these assortments are Viton® fluoroelastomer and resist isopropyl alcohol, mineral oils, and transmission fluid. They have a round profile and are suitable for a wide range of static and dynamic sealing applications.
Inch O-rings have a dash number and are sized to the SAE standard AS568.
Metric O-rings are sized to the actual measured inside diameter.
The 1,110-piece assortment contains a mix of standard O-rings and O-rings for tube fittings with a straight-thread connection.
For technical drawings and 3-D models, click on a part number.
No.


of
Pieces

No.

of
Sizes
Included
Includes
Specifications
Met

Temp.




Range,




°F

Each

Black

180
30
Dash Numbers 006-012, 110-116, 210-222, 325-327
ASTM D2000, SAE AS568, SAE J200
-15° to 400°
0000000
0000000
500
36
1.5 mm wide o-rings (5, 13, 16 mm IDs)
1.6 mm wide o-rings (2.2, 3.1, 4.1, 7.1, 9.1, 10.1, 13.1 mm IDs)
2.0 mm wide o-rings (4, 6, 8, 9, 10, 12, 14, 16, 19, 20 mm IDs)
2.4 mm wide o-rings (4.3, 5.3, 5.6, 7.6, 8.3, 8.6 mm IDs)
2.5 mm wide o-rings (10, 13-19 mm IDs)
3.0 mm wide o-rings (9, 10, 11 mm IDs)
ASTM D2000, SAE J200
-15° to 400°
0000000
000000
611
37
Dash Numbers 006-012, 110-116, 210-222, 325-334
ASTM D2000, SAE AS568, SAE J200
-15° to 400°
00000000
000000
1,110
150
Dash Numbers 001-046, 110-151, 210-237, 325-338, 901-914, 916, 918, 920, 924, 928, 932
ASTM D2000, SAE AS568, SAE J200
-15° to 400°
0000000
000000