Oil-Resistant

Hard

Buna-N

O-Ring

Assortments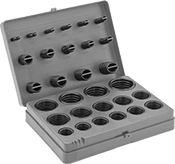 382-
and
385-Piece
Assortment
Offering better wear resistance than standard Buna-N O-rings, all of the O-rings in these assortments are made of hard Buna-N. They resist animal, vegetable, and motor oils. These O-rings have a round profile and are suitable for a wide range of static and dynamic sealing applications.
Inch O-rings have a dash number and are sized to the SAE standard AS568.
Metric O-rings are sized to the actual measured inside diameter.
For technical drawings and 3-D models, click on a part number.
Number
of
Pieces
Number
of Sizes
Included
Includes
Specifications
Met

Temp.




Range,




°F

Hardness
Color
Each
382
30
Dash Numbers 006-012, 110-116, 210-222, 325-327
ASTM D2000, SAE AS568
-25° to 250°
Durometer 90A (Hard)
Black
0000000
000000
385
30
2.0 mm wide o-rings (3, 4, 5, 6, 7, 8, 10 mm IDs)
2.5 mm wide o-rings (10, 11, 12, 14, 16, 17, 19 mm IDs)
3.0 mm wide o-rings (19, 20, 22, 24, 25, 27, 28, 30, 32, 33, 35, 36, 38 mm IDs)
4.0 mm wide o-rings (38, 41, 44 mm IDs)
ASTM D2000
-25° to 250°
Durometer 90A (Hard)
Black
0000000
00000