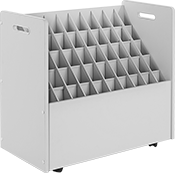 Composite Wood with 50 Compartments
The multi-tiered design allows you to store rolled documents of various sizes.
Wood Shipping Crates
Shown with Lid Off

Shown Collapsed with Pallet Straps

Shown with Loading Panel in Use

Crate

Crate with Pallet Runners
ISPM-15 certified, these rugged wood crates have been treated in accordance with the International Plant Protection Convention (IPPC), so you can use them to securely and legally ship your products anywhere in the world. With steel brackets that protect their edges and reinforce their corners for strength and rigidity, these crates won't break open while in transport. The brackets come attached to the crate panels for quick assembly. Wood screw fasteners are included.
Collapsible crates ship and store flat to save storage space.
Crates with a loading panel make it easier to load and unload products—you won't have to reach over a high panel.
Crates with pallet runners add support to the crates, so you can stack them as well as lift them with forklifts, hand trucks, and pallet jacks.
Crates with pallet straps have straps for securing the crates while shipping.
Capacity,




lbs.

Length
Width
Height
Length
Width
Height
Thickness
Width
Height
Space
Saving
Features
Includes
Specifications
Met
Each

Crates

500
14"
14"
14"
12

1/4

"
12

1/4

"
12

1/4

"
0.875"
__
__
__
__
ISPM-15 Certified
00000000
000000

Crates with Pallet Runners

500
14"
14"
15"
12

1/4

"
12

1/4

"
12

1/4

"
0.875"
7"

3/4

"
__
Pallet Straps
ISPM-15 Certified
00000000
00000
1,000
24"
24"
30"
22

1/4

"
22

1/4

"
23

3/4

"
0.875"
16"
3

1/2

"
Collapsible
Pallet Straps
ISPM-15 Certified
00000000
000000
1,800
96"
48"
54"
94

1/4

"
46

1/4

"
47

3/4

"
0.875"
18"
3

1/2

"
Collapsible
Pallet Straps
ISPM-15 Certified
00000000
000000
2,000
96"
24"
30"
94

1/4

"
22

1/4

"
23

3/4

"
0.875"
18"
3

1/2

"
Collapsible
Pallet Straps
ISPM-15 Certified
00000000
000000
2,500
60"
48"
54"
58

1/4

"
46

1/4

"
47

3/4

"
0.875"
16"
3

1/2

"
Collapsible
Pallet Straps
ISPM-15 Certified
00000000
000000
3,100
36"
36"
36"
34

1/4

"
34

1/4

"
29

3/4

"
0.875"
12"
3

1/2

"
Collapsible
Pallet Straps
ISPM-15 Certified
00000000
000000
3,100
48"
40"
24"
46

1/4

"
38

1/4

"
17

3/4

"
0.875"
18"
3

1/2

"
Collapsible
Pallet Straps
ISPM-15 Certified
00000000
000000
3,100
48"
40"
42"
46

1/4

"
38

1/4

"
35

3/4

"
0.875"
18"
3

1/2

"
Collapsible
Pallet Straps
ISPM-15 Certified
00000000
000000
3,100
48"
48"
24"
46

1/4

"
46

1/4

"
17

3/4

"
0.875"
18"
3

1/2

"
Collapsible
Pallet Straps
ISPM-15 Certified
00000000
000000
3,100
48"
48"
48"
46

1/4

"
46

1/4

"
41

3/4

"
0.875"
18"
3

1/2

"
Collapsible
Pallet Straps
ISPM-15 Certified
00000000
000000
3,100
48"
48"
84"
46

1/4

"
46

1/4

"
77

3/4

"
0.875"
18"
3

1/2

"
Collapsible
Pallet Straps
ISPM-15 Certified
00000000
000000

Crates with Pallet Runners and Loading Panel

3,100
48"
40"
42"
46

1/4

"
38

1/4

"
35

3/4

"
0.875"
18"
3

1/2

"
Collapsible
Pallet Straps
ISPM-15 Certified
00000000
000000
3,100
48"
48"
48"
46

1/4

"
46

1/4

"
41

3/4

"
0.875"
18"
3

1/2

"
Collapsible
Pallet Straps
ISPM-15 Certified
00000000
000000