Padlockable Gate Latches
Push to close and pull up on the latch arm to open these padlockable latches. They are self-latching, meaning that a catch grabs and holds the strike plate to keep doors shut. All of these latches are reversible for left or right-hand mounting. The arm has a hole to add a pull cord or chain.
Fasten surface-mounted latches to the front of the gate and post, so the two pieces are parallel. The strike plate on edge-mounted latches mounts in between the gate and the post, perpendicular to the bolt. When space is tight, you can mortise mount the strike plate, so it is recessed into the post. This mounting style is more durable than surface mounting, and has a stronger hold. You can also operate these latches from either side of the gate without needing to attach a pull cord or chain.
Latches with 90° bolt are for gates that overlap the post when closed. Latches with straight bolt are for gates that close flush with the post.
Mount latches with a fixed bolt directly to the gate. These latches are quick to install and require less mounting space than adjustable-bolt latches, but are difficult to adjust once installed. Latches with an adjustable bolt have multiple mounting holes for the bolt, so you can change its alignment without moving the whole latch. Start adjustable latches with a screw at the lowest mounting hole, and move the bolt up each time the latch becomes misaligned. Adjustable latches with a button are the easiest to adjust—depress a button to move the bolt instead of unscrewing it from the mounting plate.
The smooth finish on powder-coated steel latches protects the underlying steel from rust in wet environments. If the coating is chipped or scratched, the steel will rust.
Zinc-plated steel latches have a layer of zinc that protects the steel from rust in wet environments.
Galvanized steel latches are more corrosion-resistant than zinc-plated steel latches, but have a rougher surface and a less finished appearance.
Stainless steel latches are the most corrosion-resistant, and will hold up to water and chemicals.
Attach pull cords to a hole on the arm to open an unlocked gate from either side of the fence.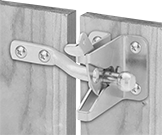 Surface Mount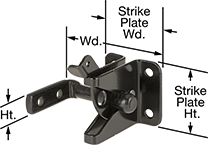 Black
Powder-Coated
Steel Surface Mount with
90°
Bolt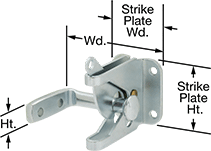 Zinc-Plated
Steel Surface Mount with
90°
Bolt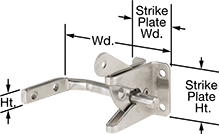 Stainless Steel Surface Mount with
90°
Bolt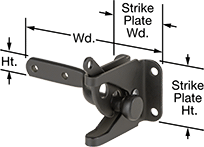 Black
Powder-Coated
Stainless Steel Surface Mount with Fixed Straight Bolt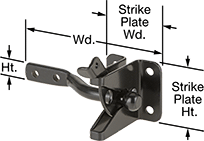 Black
Powder-Coated
Steel Surface Mount with Fixed Straight Bolt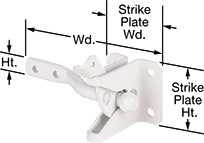 White
Powder-Coated
Steel Surface Mount with Fixed Straight Bolt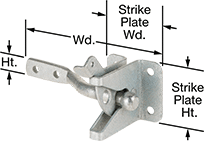 Galvanized Steel Surface Mount with Fixed Straight Bolt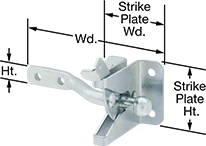 Zinc-Plated
Steel Surface Mount with Fixed Straight Bolt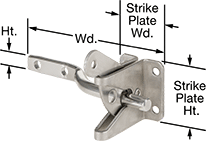 Stainless Steel Surface Mount with Fixed Straight Bolt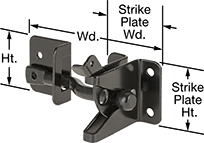 Black
Powder-Coated
Steel Surface Mount with Adjustable Straight Bolt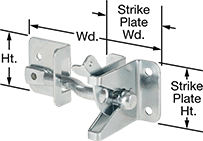 Zinc-Plated
Steel Surface Mount with Adjustable Straight Bolt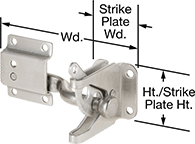 Stainless Steel Surface Mount with Adjustable Straight Bolt
Material
Appearance

Ht.

Wd.

Projection

Ht.

Wd.

Pull Cord
Hole


Dia.

For

Max.


Padlock
Shackle

Dia.

Fasteners
Included
Screw
Size
Adjustable
Bolt
Type
Each
Black Powder-Coated Steel
__

9/16

"
2

3/8

"
2

5/16

"
1

3/4

"
1

3/4

"

3/16

"

5/16

"
Yes
__
__
0000000
00000
Zinc-Plated Steel
Dull

9/16

"
2

3/8

"
2

5/16

"
1

3/4

"
1

3/4

"

3/16

"

5/16

"
Yes
__
__
0000000
0000
304 Stainless Steel
Dull

1/2

"
4"
2

3/4

"
1

3/4

"
1

1/2

"

3/16

"

5/16

"
No
No. 8
__
0000000
00000

Fixed Straight Bolt

Black Powder-Coated 302 Stainless Steel
__

9/16

"
4

1/2

"
2

3/16

"
1

11/16

"
1

3/8

"

3/16

"

5/16

"
__
__
__
0000000
00000
Black Powder-Coated Steel
__

9/16

"
4

7/16

"
2

3/8

"
1

3/4

"
1

7/8

"

1/8

"

5/16

"
Yes
__
__
0000000
0000
White Powder-Coated Steel
__

9/16

"
4

7/16

"
2

3/8

"
1

3/4

"
1

7/8

"

1/8

"

5/16

"
Yes
__
__
0000000
0000
Galvanized Steel
Dull

9/16

"
4

7/16

"
2

3/8

"
1

3/4

"
1

7/8

"

1/8

"

5/16

"
Yes
__
__
0000000
00000
Zinc-Plated Steel
Dull

9/16

"
4

7/16

"
2

3/8

"
1

3/4

"
1

7/8

"

1/8

"

5/16

"
Yes
__
__
0000000
0000
304 Stainless Steel
Dull

1/2

"
4

3/4

"
2

3/4

"
1

3/4

"
1

1/2

"

3/16

"

5/16

"
No
No. 8
__
0000000
00000

Adjustable Straight Bolt

Black Powder-Coated Steel
__
1

3/4

"
4

1/2

"
2

3/8

"
1

3/4

"
1

7/8

"

1/8

"

5/16

"
__
__
Screw
0000000
00000
Black Powder-Coated Steel
__
1

3/4

"
6

1/2

"
2

3/8

"
1

3/4

"
1

7/8

"

1/8

"

5/16

"
__
__
Screw
0000000
00000
Black Powder-Coated Steel
__
2

1/2

"
8"
3

1/4

"
2"
1

1/2

"

1/4

"

5/16

"
__
__
Screw
0000000
00000
Zinc-Plated Steel
Dull
1

3/4

"
4

1/2

"
2

3/8

"
1

3/4

"
1

7/8

"

1/8

"

5/16

"
__
__
Screw
0000000
0000
Zinc-Plated Steel
Dull
1

3/4

"
6

1/2

"
2

3/8

"
1

3/4

"
1

7/8

"

1/8

"

5/16

"
__
__
Screw
0000000
00000
Zinc-Plated Steel
Dull
2

1/2

"
8"
3

1/4

"
2"
1

1/2

"

1/4

"

5/16

"
__
__
Screw
0000000
00000
302 Stainless Steel
Dull
1

13/16

"
4

1/8

"
2

1/8

"
1

13/16

"
1

3/8

"

3/16

"

5/16

"
__
__
Button
0000000
00000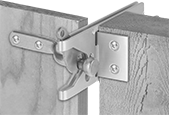 Edge Mount
Black
Powder-Coated
Aluminum Edge Mount with Fixed Straight Bolt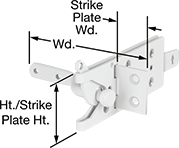 White
Powder-Coated
Aluminum Edge Mount with Fixed Straight Bolt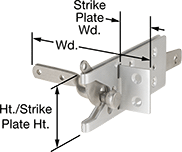 Aluminum Edge Mount with Fixed Straight Bolt
Material
Appearance

Ht.

Wd.

O'all




Dp.

Projection

Ht.

Wd.

Pull Cord
Hole


Dia.

For

Max.


Padlock
Shackle

Dia.

Each

Fixed Straight Bolt

Black Powder-Coated Aluminum
__
2"
4

1/2

"
5

1/4

"
2

1/4

"
2"
1

9/16

"

3/16

"

5/16

"
0000000
000000
White Powder-Coated Aluminum
__
2"
4

1/2

"
5

1/4

"
2

1/4

"
2"
1

9/16

"

3/16

"

5/16

"
0000000
00000
Aluminum
Dull
2"
4

1/2

"
5

1/4

"
2

1/4

"
2"
1

9/16

"

3/16

"

5/16

"
0000000
00000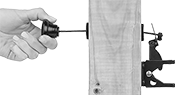 Use pull
cord to open an unlocked gate

Pull Cord
Lg.

Mounting
Fasteners Included
Each
40"
Yes
0000000
000000