3M Scotch-Brite

Nylon Mesh Cushioned Sanding Pads

The thick, abrasive-embedded nylon mesh construction gives you maximum control over sanding pressure. These pads can be cut to size for use with portable sanders.
Heavy Duty—Aggressive deburring, blending, and rust removal.
For technical drawings and 3-D models, click on a part number.
Nylon
Mesh
Grade
For
Finish
Manufacturer
Model


No.

Thick.

Color
For
Use
On
Abrasive
Material

Pkg.




Qty.

Pkg.

Heavy Duty

Medium
Smooth
7440

1/4

"
Beige
Stainless Steel, Titanium, Steel, Iron, Nickel, Wood
Aluminum Oxide
20
00000000
000000
Absorbent Wrap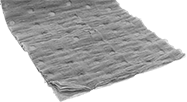 The multilayered tissue in this wrap soaks up spills and moisture while also insulating and cushioning contents. It is 100% recycled. Rolls are perforated and come in a dispenser box for one-hand use.
Paper Floor Protectors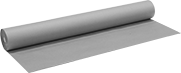 Similar to heavy kraft paper, this temporary floor protector offers moisture resistance. Keep in place with masking tape.
Wd.

Lg.

Thick.,


mil
Color
Each

For Use With Carpets and Floors

35"
166'
8
Beige
0000000
000000