Number of Sheets

Number of Sheets
RoHS (Restriction of Hazardous Substances)

RoHS

(Restriction

of
Hazardous

Substances)
DFARS (Defense Acquisition Regulations Supplement)

DFARS

(Defense

Acquisition

Regulations

Supplement)
Printer Paper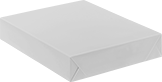 White

Gray

Ivory
Stock your printers with paper in a variety of sizes, weights, and colors.
Often used for mailers, the 67-lb. paper is a lightweight, flexible cardstock.
90- and 110-lb. paper is an extra-heavy cardstock that's designed to stand up to frequent handling, such as dividers and menus. The 110-lb. paper is more durable than the 90-lb. paper.