Portable/Wall-Mount

Group Lockout Boxes

Box with
Document Display
(Padlocks Not Included)
Carry these boxes from job to job and mount them near equipment to lock out valves, electrical controls, and other machines with fewer padlocks, saving your team time. With these lockout boxes, you only need one padlock to lock out each piece of equipment. The keys for those padlocks are locked in this box and aren't accessible until your team removes all the padlocks from the box. All boxes help you comply with OSHA requirements for controlling hazardous energy.
Boxes with a document display let you view checklists and permits as you lock out equipment, reducing the risk of injury. They stand up to outdoor and other wet environments, since they're stainless steel with an IP rated gasket to protect documents. The windows are made of polycarbonate to resist impacts, so you can't break into the box to access padlocks or keys. Write down permit and work order numbers on the erasable tag.
Color

Lg.

Wd.

Ht.

For

Max.

No.


of Padlocks


(Hole Location)

For

Max.


Padlock
Shackle

Dia.

No.

of
Key
Hooks
For
Use
With
Fasteners
Included

No.

Screw
Size
Window
Material
Environmental
Rating
Specifications
Met
Each

430 Stainless Steel Box with Document Display

Red
12

1/8

"
4

3/4

"
31"
12 (Outside of Box); 12 (Removable Lock Caddy)

9/32

"
12
Air Hoses, Electrical Controls, Electrical Plugs, Gas Cylinders, Valves
No
8
No. 8
Polycarbonate Plastic
IP03
OSHA Compliant 29 CFR 1910.147
000000000
0000000
Lockout Procedure Stations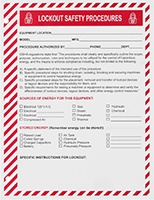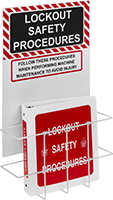 Store all of your lockout safety procedure forms in one place. These stations hold binders that you fill with one form for each piece of equipment that lists required lockouts. Mount these stations near equipment you service frequently—the colorful sign reminds you to grab the binder before starting work.
Using these stations helps you create a program for locking out energy sources such as electricity, hydraulics, and steam that adheres to OSHA 29 CFR 1910.147 standards. To keep your procedures current, you can update these forms to reflect changes to equipment.