Ball-and-Cotter

Double-Locking

Quick-Release

Pins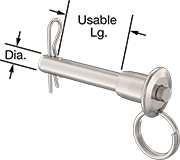 These pins lock in place until you push the button to release the spring-loaded retaining balls, and can also be secured with a cotter pin for longer-term holding. Two-step locking prevents accidental removal. Use these pins in a hole as close to the diameter as possible, but not larger than the diameter at extended ball height.
Pins meet SAE AMS5643 specifications for material. They're made of 17-4 PH stainless steel for strength with some corrosion resistance, and passivated for added protection against corrosion and oxidation. They are magnetic.
For technical drawings and 3-D models, click on a part number.
Usable


Lg.

Dia.


Tolerance

Dia.

at
Extended
Ball

Ht.

Min.


Hardness
Breaking


Strength,




lbs.

Handle
Material
Includes
Specifications
Met
Each
1"
-0.003" to -0.002"
0.289"
Rockwell C40
9,000
300 Series Stainless Steel

5/64

" Dia. Stainless Steel Hairpin Cotter Pin, Split Ring
SAE AMS5643
0000000
000000
1

1/2

"
-0.003" to -0.002"
0.289"
Rockwell C40
9,000
300 Series Stainless Steel

5/64

" Dia. Stainless Steel Hairpin Cotter Pin, Split Ring
SAE AMS5643
0000000
00000
2"
-0.003" to -0.002"
0.289"
Rockwell C40
9,000
300 Series Stainless Steel

5/64

" Dia. Stainless Steel Hairpin Cotter Pin, Split Ring
SAE AMS5643
0000000
00000
1

1/2

"
-0.003" to 0.001"
0.44"
Rockwell C40
20,500
300 Series Stainless Steel

5/64

" Dia. Stainless Steel Hairpin Cotter Pin, Split Ring
SAE AMS5643
0000000
00000
2"
-0.003" to 0.001"
0.44"
Rockwell C40
20,500
300 Series Stainless Steel

5/64

" Dia. Stainless Steel Hairpin Cotter Pin, Split Ring
SAE AMS5643
0000000
00000
2

1/2

"
-0.003" to 0.001"
0.44"
Rockwell C40
20,500
300 Series Stainless Steel

5/64

" Dia. Stainless Steel Hairpin Cotter Pin, Split Ring
SAE AMS5643
0000000
00000