Circuit Board Headers

Straight Male Header


Straight Female Header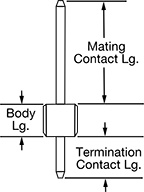 Use these headers to make quick, temporary connections to development boards and other circuit boards when prototyping. Solder the termination contacts directly to your board, and use the mating contacts to transmit power and send signals to your equipment.
Choose male headers if you need to plug your board into something else, such as a separate circuit board or breadboard. Choose female headers if you need to plug something into your board, such as circuit board wires or other accessories.
90° angle headers fit snugly against circuit boards, creating a low-profile connection in tight spaces.
Total

No.

of
Contact
Points
Rows
Columns
For
Hole


Center-to-Center

Max.


Current
Mating
Contact


Lg.

Termination
Contact


Lg.

Body


Lg.

Construction

Temp.




Range,




°F

Each

Male Headers

Straight

6
2
3
0.1"
3A

1/4

"

3/32

"

1/8

"
Break Away
-40° to 221°
0000000
00000
40
1
40
0.1"
3A

1/4

"

1/8

"

1/8

"
Break Away
-40° to 221°
0000000
0000
40
1
40
0.1"
3A

9/16

"

1/8

"

1/8

"
Break Away
-40° to 221°
0000000
0000
40
1
40
0.1"
3A

1/4

"

1/8

"

1/8

"
Break Away
-40° to 221°
0000000
0000

Female Headers

Straight

6
2
3
0.1"
3A
__

1/8

"

11/32

"
Solid
-40° to 221°
0000000
0000
40
1
40
0.1"
3A
__

1/8

"

11/32

"
Solid
-40° to 221°
0000000
0000
No.


of
Pieces
For
Hole


Center-to-Center

Max.


Current
Mating
Contact


Lg.

Body


Lg.

Construction

Temp.




Range,




°F

Each

Straight

Male/Female

Headers

For Arduino

Leonardo,

Uno Series

One Header with 6 Contacts (1 Row x 6 Columns)
Two Headers with 8 Contacts (1 Row x 8 Columns)
One Header with 10 Contacts (1 Row x 10 Columns)
4
0.1"
3A

13/32

"

11/32

"
Solid
-40° to 221°
0000000
00000

For Arduino Nano Series

Two Headers with 15 Contacts (1 Row x 15 Columns)
2
0.1"
3A

13/32

"

11/32

"
Solid
-40° to 221°
0000000
0000