Drawbar Couplers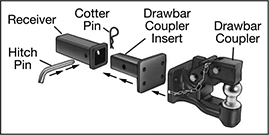 Coupler Shown with Drawbar Components
Also known as pintle hitches, drawbar couplers are used with drawbar rings to connect a trailer to your vehicle for towing. Maximum trailer weight is the total weight being towed. Vertical capacity (also known as tongue weight) represents the weight of the load on the drawbar ring or hitch ball. Use Grade 8 fasteners (included with some couplers) for mounting. Mount couplers directly to a vehicle or use a mounting plate insert to mount them to a hitch receiver. See Mounting Plate Inserts for Drawbar Couplers and Hitch Receivers.
Combination ball/eye couplers include a ball for use with hitch-ball connections.
Note: Capacity is reduced 25% in off-road use.
For technical drawings and 3-D models, click on a part number.