Linch Pins

Linch Pin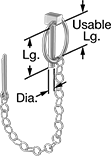 Linch Pin with Chain and Cotter Pin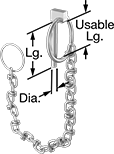 Linch Pin with Chain and Key Ring
Slide the pin through a hole then snap the ring down to lock these pins in place. Also known as click pins. Use them to secure clevis pins and shafts to keep components in place. Attach pins that have a chain to your work to keep them from getting lost.
Zinc-plated steel pins have good strength and some corrosion resistance.
18-8 stainless steel pins offer a balance of strength and corrosion resistance. They may be mildly magnetic.
For technical drawings and 3-D models, click on a part number.
Dia.

Usable


Lg.

Lg.

Min.

Hardness

Pkg.




Qty.

Pkg.

Linch Pins

Zinc-Plated

1004-1045

Carbon Steel

3/16

"
1"
1

1/4

"
Rockwell B81
5
000000000
00000

3/16

"
1

1/4

"
1

9/16

"
Rockwell B81
10
000000000
00000

1/4

"
1

1/4

"
1

9/16

"
Rockwell B81
10
000000000
00000

5/16

"
1

1/4

"
1

9/16

"
Rockwell B81
10
000000000
00000

5/16

"
1

1/2

"
1

3/4

"
Not Rated
1
000000000
0000

7/16

"
1

5/16

"
1

9/16

"
Rockwell B81
10
000000000
00000

7/16

"
1

5/16

"
1

31/32

"
Rockwell B81
5
000000000
0000

7/16

"
1

1/2

"
1

3/4

"
Rockwell B81
5
000000000
00000

7/16

"
1

1/2

"
1

31/32

"
Rockwell B81
5
000000000
00000

3/16

"
1"
1

1/2

"
Rockwell B80
1
000000000
0000

1/4

"
1

3/8

"
1

3/4

"
Rockwell B80
1
000000000
0000

Linch Pins with Steel Cotter Pin and

Zinc-Plated

Steel Chain

Zinc-Plated

1004-1045

Carbon Steel

3/16

"
1

1/4

"
1

9/16

"
Rockwell B81
5
000000000
00000

1/4

"
1

1/4

"
1

9/16

"
Rockwell B81
5
000000000
00000

5/16

"
1

1/4

"
1

9/16

"
Rockwell B81
5
000000000
00000

5/16

"
1

1/2

"
1

3/4

"
Not Rated
1
000000000
0000

7/16

"
1

5/16

"
1

9/16

"
Rockwell B81
5
000000000
00000

7/16

"
1

5/16

"
1

31/32

"
Rockwell B81
5
000000000
00000

7/16

"
1

1/2

"
1

7/8

"
Not Rated
1
000000000
0000

Linch Pins with Stainless Steel Chain and Stainless Steel Key Ring

3/16

"
1

1/4

"
1

5/8

"
Rockwell B80
1
000000000
0000

1/4

"
1

1/2

"
1

5/8

"
Rockwell B80
1
000000000
0000