Press-Fit

Locating and Support Buttons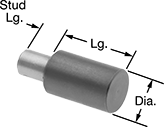 Support and position workpieces and fixtures from the bottom or side. These buttons press into a drilled hole for permanent installation. Also known as rest buttons.
Stainless steel buttons are a good choice to avoid corrosion when working with stainless steel workpieces or fixtures.
For technical drawings and 3-D models, click on a part number.
Dia.

Lg.

Dia.

Lg.

Lg.

Stud

Dia.

Each

Steel

1/4

"

1/8

"

1/8

"

7/32

"
0" to 0.001"
0.001" to 0.0015"
0000000
00000

1/4

"

1/4

"

3/16

"

7/32

"
0.01" to 0.015"
0.0005" to 0.001"
0000000
0000

3/8

"

1/8

"

1/8

"

7/32

"
0" to 0.001"
0.001" to 0.0015"
0000000
0000

3/8

"

1/4

"

3/16

"

7/32

"
0.01" to 0.015"
0.0005" to 0.001"
0000000
0000

3/8

"

1/4

"

1/4

"

1/2

"
0" to 0.001"
0.0005" to 0.001"
0000000
0000

3/8

"

3/8

"

3/16

"

3/8

"
0" to 0.001"
-0.0005" to 0"
00000000
0000

3/8

"

1/2

"

3/16

"

3/8

"
0" to 0.005"
0.0005" to 0.001"
0000000
0000

1/2

"

1/8

"

1/8

"

7/32

"
0" to 0.001"
0.001" to 0.0015"
0000000
0000

1/2

"

1/4

"

1/4

"

1/2

"
0" to 0.005"
0.0005" to 0.0015"
0000000
0000

1/2

"

3/8

"

1/4

"

1/2

"
0" to 0.005"
0.0005" to 0.0015"
0000000
0000

1/2

"

1/2

"

1/4

"

1/2

"
0" to 0.005"
0.0005" to 0.0015"
0000000
0000

5/8

"

1/4

"

3/8

"

15/32

"
0.01" to 0.015"
0.0005" to 0.001"
0000000
0000

5/8

"

5/16

"

5/16

"

1/2

"
0" to 0.001"
-0.0005" to 0"
00000000
0000

5/8

"

3/8

"

3/8

"

1/2

"
0" to 0.005"
0.0005" to 0.0015"
0000000
0000

5/8

"

7/16

"

5/16

"

1/2

"
0" to 0.001"
-0.0005" to 0"
00000000
0000

5/8

"

1/2

"

3/8

"

1/2

"
0" to 0.005"
0.0005" to 0.0015"
0000000
0000

5/8

"

5/8

"

3/8

"

1/2

"
0" to 0.005"
0.0005" to 0.0015"
0000000
0000

5/8

"

3/4

"

3/8

"

1/2

"
0" to 0.005"
0.0005" to 0.0015"
0000000
0000

5/8

"

7/8

"

5/16

"

1/2

"
0" to 0.001"
-0.0005" to 0"
00000000
0000

5/8

"
1"

3/8

"

1/2

"
0" to 0.005"
0.0005" to 0.0015"
0000000
0000

3/4

"
1

1/2

"

1/2

"

1/2

"
0" to 0.01"
0.0005" to 0.0015"
0000000
0000

7/8

"

1/4

"

1/2

"

5/8

"
0" to 0.001"
-0.0005" to 0"
00000000
0000

7/8

"

5/16

"

1/2

"

5/8

"
0" to 0.001"
-0.0005" to 0"
00000000
0000

7/8

"

3/8

"

1/2

"

5/8

"
0" to 0.001"
-0.0005" to 0"
00000000
0000

7/8

"

7/16

"

1/2

"

5/8

"
0" to 0.001"
-0.0005" to 0"
00000000
0000

7/8

"

1/2

"

1/2

"

5/8

"
0" to 0.001"
-0.0005" to 0"
00000000
0000

7/8

"

9/16

"

1/2

"

5/8

"
0" to 0.001"
-0.0005" to 0"
00000000
0000

7/8

"

5/8

"

1/2

"

5/8

"
0" to 0.001"
-0.0005" to 0"
00000000
0000

7/8

"

11/16

"

1/2

"

5/8

"
0" to 0.001"
-0.0005" to 0"
00000000
0000

7/8

"

3/4

"

1/2

"

5/8

"
0" to 0.001"
-0.0005" to 0"
00000000
0000

7/8

"

13/16

"

1/2

"

5/8

"
0" to 0.001"
-0.0005" to 0"
00000000
0000

7/8

"

7/8

"

1/2

"

5/8

"
0" to 0.001"
-0.0005" to 0"
00000000
0000

7/8

"

15/16

"

1/2

"

5/8

"
0" to 0.001"
-0.0005" to 0"
00000000
0000

7/8

"
1"

1/2

"

5/8

"
0" to 0.001"
-0.0005" to 0"
00000000
0000
1"

3/8

"

5/8

"

3/4

"
0" to 0.001"
-0.0005" to 0"
00000000
00000
1"

1/2

"

5/8

"

3/4

"
0" to 0.001"
-0.0005" to 0"
00000000
00000
1"

5/8

"

5/8

"

3/4

"
0" to 0.001"
-0.0005" to 0"
00000000
00000
1"

3/4

"

5/8

"

3/4

"
0" to 0.001"
-0.0005" to 0"
00000000
00000
1

1/2

"

1/4

"
1"
1

3/8

"
0" to 0.001"
-0.0005" to 0"
00000000
00000
1

1/2

"

1/2

"
1"
1

3/8

"
0" to 0.001"
-0.0005" to 0"
00000000
00000
1

1/2

"

3/4

"
1"
1

3/8

"
0" to 0.001"
-0.0005" to 0"
00000000
00000
1

1/2

"
1"
1"
1

3/8

"
0" to 0.001"
-0.0005" to 0"
00000000
00000

Stainless Steel

3/8

"

1/4

"

3/16

"

1/4

"
0" to 0.001"
-0.015" to 0"
00000000
0000

3/8

"

3/8

"

3/16

"

1/4

"
0" to 0.001"
-0.015" to 0"
00000000
0000

3/8

"

1/2

"

3/16

"

1/4

"
0" to 0.001"
-0.015" to 0"
00000000
0000

1/2

"

1/4

"

1/4

"

5/16

"
0" to 0.001"
-0.015" to 0"
00000000
0000

1/2

"

3/8

"

1/4

"

5/16

"
0" to 0.001"
-0.015" to 0"
00000000
0000

1/2

"

1/2

"

5/16

"

5/16

"
0" to 0.001"
-0.015" to 0"
00000000
0000

1/2

"

3/4

"

5/16

"

5/16

"
0" to 0.001"
-0.015" to 0"
00000000
0000

1/2

"
1"

5/16

"

5/16

"
0" to 0.001"
-0.015" to 0"
00000000
0000