Quick-Release

Pins for Access Panels
Attach these pins to a machine cover or access panel, then clip the panel on to an enclosure. Install them in a receptacle (sold separately). They're made of nickel-plated steel for good strength and some corrosion resistance.
Push-button pins lock in place until you push the button to release the spring-loaded retaining balls. A raised button has a narrow head to fit in small spaces. A recessed button prevents accidental pin removal. The head has a hole to add a ring and lanyard (sold separately).
Twist-to-lock pins lock and unlock with a quarter turn of the head.
For technical drawings and 3-D models, click on a part number.

Raised Push Button


Dia.,


mm

Dia.




Tolerance,


mm
Usable


Lg.,


mm
For Panel


Thick.,


mm
Size

Lg.,


mm

Pitch,


mm
Ball
Material
Each
Each

Nickel-Plated

1004-1045

Carbon Steel

6
-0.1 to -0.05
10.5-16.5
6-10
M8

5.5
1.25
440C Stainless Steel
000000000
000000
000000000
00000
10
-0.1 to -0.05
10.5-22.5
6-16
M12

5.5
1.5
440C Stainless Steel
000000000
00000
000000000
0000

Recessed Push Button


Dia.,


mm

Dia.




Tolerance,


mm
Usable


Lg.,


mm
For Panel


Thick.,


mm
Size

Lg.,


mm

Pitch,


mm
Ball
Material
Each
Each

Nickel-Plated

1004-1045

Carbon Steel

6
-0.1 to -0.05
10.5-16.5
6-10
M8

5.5
1.25
440C Stainless Steel
000000000
000000
000000000
00000
10
-0.1 to -0.05
10.5-22.5
6-16
M12

5.5
1.5
440C Stainless Steel
000000000
00000
000000000
0000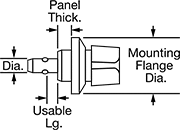 Dia.,


mm

Dia.




Tolerance,


mm
Usable


Lg.,


mm
For Panel


Thick.,


mm
Mounting
Flange


Dia.,

mm
Ball
Material
Handle
Material
Handle
Color
Mounting
Fasteners
Included
Each
Each

Nickel-Plated

1004-1045

Carbon Steel

6
-0.1 to -0.05
10.5
6-10
25
440C Stainless Steel
Nylon Plastic
Black
Yes
000000000
000000
000000000
00000
10
-0.1 to -0.05
10.5
6-14
34
440C Stainless Steel
Nylon Plastic
Black
Yes
000000000
00000
000000000
0000