Spring Test Probes

Round



Flat

Waffle

Crown


Chisel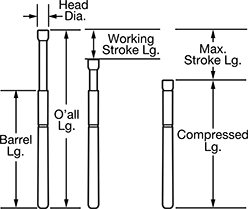 Create an automated system to test continuity in circuit boards. Combine these spring-loaded test probes with Spring Test Probe Sockets that are permanently attached to testing fixtures. Select a socket that has the same minimum spacing between probe centers and is for the probe's barrel length. Test probes and sockets are sold separately.
Probes with flat and rounded tips are nonmarring, while probes with pointier tips may leave light marks on surfaces. Sharper probes, however, will be more effective at penetrating corroded or finished surfaces.
Round probes test flat surfaces. 90° cup probes guide protruding objects, such as terminals, pins, and long wire leads. Flat probes have a large surface area that's good for use with solder bumps and protruding posts.
Waffle probes have many points of contact to test flat surfaces as well as terminals and pins. Crown probes test wire leads, posts, and flat surfaces. The points on crown probes are angled and longer than those on waffle probes, so they're better at cutting through corrosion.
Use 30° spear probes on lightly corroded flat surfaces and holes that must remain free of marks. Chisel probes make contact at multiple angles to cut through moderate corrosion. 90° razor probes have a narrow tip to pierce through heavy corrosion.
When installing test probes and sockets, adhere to the "minimum spacing between probe centers" to maximize testing points while preventing probes from interfering with each other. Spring test probes will produce optimal results when your system is set up to achieve the working stroke length. Initial spring force is the force required to start compressing the probe; maximum spring force is the force applied at the working stroke length.
For technical drawings and 3-D models, click on a part number.
Min.

Spacing Between
Probe
Centers

Current,


A
Initial

Max.

Overall


Lg.

Compressed


Lg.

Working

Max.

Lg.

Dia.

Head
Diameter
Finish

Pkg.




Qty.

Pkg.

Round Tip

0.039"
4.3
2.2
5.4
1.435"
1.27"
0.167"
0.25"
1.435"
0.024"
0.016"
Gold Plated
5
00000000
000000
0.05"
3
2.4
7
1.7"
1.45"
0.167"
0.25"
1.43"
0.031"
0.021"
Gold Plated
5
00000000
00000
0.05"
5
1.7
7
1.865"
1.548"
0.317"
0.35"
1.43"
0.031"
0.021"
Gold Plated
5
00000000
00000
0.05"
5
2.4
5.6
1.36"
1.12"
0.167"
0.25"
1.09"
0.031"
0.021"
Gold Plated
5
00000000
00000
0.05"
5.9
1.2
4.8
1.527"
1.21"
0.317"
0.4"
1.09"
0.031"
0.021"
Gold Plated
5
0000000
00000
0.075"
10
1.7
7
1.45"
1.13"
0.317"
0.35"
1"
0.04"
0.026"
Gold Plated
5
00000000
00000
0.075"
11
2.7
7
1.3"
1.05"
0.167"
0.25"
1"
0.04"
0.026"
Gold Plated
5
00000000
00000
0.1"
14
2
7
1.46"
1.14"
0.317"
0.35"
1"
0.054"
0.036"
Gold Plated
5
00000000
00000
0.1"
17
2.6
6.5
1.31"
1.06"
0.167"
0.25"
1"
0.054"
0.036"
Gold Plated
5
0000000
00000
0.125"
5
2.9
7
1.3"
1.05"
0.17"
0.25"
0.97"
0.08"
0.059"
Gold Plated
5
00000000
00000
0.125"
27
2.9
7
1.3"
1.05"
0.17"
0.25"
0.97"
0.08"
0.059"
Gold Plated
5
00000000
00000
0.187"
32
4
10
1.33"
1.07"
0.17"
0.25"
0.97"
0.09"
0.068"
Gold Plated
5
00000000
00000
0.05"
3
0.6
2.5
0.66"
0.56"
0.07"
0.1"
0.52"
0.03"
0.04"
Gold Plated
5
0000000
0000
0.05"
3
2.4
7
1.7"
1.45"
0.167"
0.25"
1.43"
0.031"
0.035"
Gold Plated
5
00000000
00000
0.05"
5
2.4
5.6
1.36"
1.12"
0.167"
0.25"
1.09"
0.031"
0.035"
Gold Plated
5
00000000
00000
0.075"
3
1.5
3.8
0.67"
0.55"
0.07"
0.1"
0.49"
0.04"
0.06"
Gold Plated
5
0000000
00000
0.075"
11
2.7
7
1.3"
1.05"
0.167"
0.25"
1"
0.04"
0.046"
Gold Plated
5
00000000
00000
0.1"
12
2.2
5.5
0.97"
0.89"
0.107"
0.16"
0.73"
0.054"
0.075"
Gold Plated
5
0000000
00000
0.1"
14
2
7
1.46"
1.14"
0.317"
0.35"
1"
0.054"
0.062"
Gold Plated
5
00000000
00000
0.1"
17
2.6
6.5
1.31"
1.06"
0.167"
0.25"
1"
0.054"
0.062"
Gold Plated
5
00000000
00000
0.125"
23
2.2
7
1.3"
1.22"
0.167"
0.25"
0.97"
0.08"
0.1"
Gold Plated
5
0000000
00000
0.125"
41
2.2
7
1.3"
1.22"
0.167"
0.25"
0.97"
0.08"
0.1"
Gold Plated
5
0000000
00000
0.187"
5
2.8
7
1.33"
1.08"
0.17"
0.25"
0.97"
0.09"
0.16"
Gold Plated
5
0000000
00000
0.187"
5
2.8
16.4
1.42"
1.17"
0.17"
0.25"
1.07"
0.13"
0.16"
Gold Plated
5
0000000
00000
0.187"
32
4
10
1.33"
1.07"
0.17"
0.25"
0.97"
0.09"
0.16"
Gold Plated
5
00000000
00000
0.187"
43
2.2
6
1.32"
1.07"
0.167"
0.25"
0.97"
0.093"
0.155"
Gold Plated
5
0000000
00000
0.187"
55
7
18
1.42"
1.17"
0.167"
0.25"
1.07"
0.125"
0.155"
Gold Plated
5
0000000
00000

Flat Tip

0.05"
3
2.4
7
1.7"
1.45"
0.167"
0.25"
1.43"
0.031"
0.035"
Gold Plated
5
00000000
00000
0.05"
5
2.4
5.6
1.36"
1.12"
0.167"
0.25"
1.09"
0.031"
0.035"
Gold Plated
5
00000000
00000
0.075"
10
1.7
7
1.45"
1.13"
0.317"
0.35"
1"
0.04"
0.026"
Gold Plated
5
00000000
00000
0.075"
11
2.7
7
1.3"
1.05"
0.167"
0.25"
1"
0.04"
0.046"
Gold Plated
5
00000000
00000
0.1"
14
2
7
1.46"
1.14"
0.317"
0.35"
1"
0.054"
0.062"
Gold Plated
5
00000000
00000
0.1"
17
2.6
6.5
1.31"
1.06"
0.167"
0.25"
1"
0.054"
0.062"
Gold Plated
5
0000000
00000
0.125"
5
2.9
7
1.3"
1.05"
0.17"
0.25"
0.97"
0.08"
0.1"
Gold Plated
5
00000000
00000
0.187"
32
4
10
1.33"
1.07"
0.17"
0.25"
0.97"
0.09"
0.16"
Gold Plated
5
00000000
00000
0.187"
39
7.2
18.7
1.42"
1.17"
0.17"
0.25"
1.07"
0.13"
0.16"
Gold Plated
5
00000000
00000

Waffle Tip

0.05"
3
0.6
2.5
0.66"
0.56"
0.07"
0.1"
0.52"
0.03"
0.04"
Gold Plated
5
0000000
00000
0.05"
3
2.4
7
1.7"
1.45"
0.167"
0.25"
1.43"
0.031"
0.035"
Gold Plated
5
00000000
00000
0.05"
5
2.4
5.6
1.36"
1.12"
0.167"
0.25"
1.09"
0.031"
0.035"
Gold Plated
5
00000000
00000
0.075"
3
1.5
3.8
0.67"
0.55"
0.07"
0.1"
0.49"
0.04"
0.06"
Gold Plated
5
0000000
00000
0.075"
10
1.7
7
1.45"
1.13"
0.317"
0.35"
1"
0.04"
0.046"
Gold Plated
5
00000000
00000
0.075"
11
2.7
7
1.3"
1.05"
0.167"
0.25"
1"
0.04"
0.046"
Gold Plated
5
00000000
00000
0.1"
12
2.2
5.5
0.97"
0.89"
0.107"
0.16"
0.73"
0.054"
0.075"
Gold Plated
5
0000000
00000
0.1"
14
2
7
1.46"
1.14"
0.317"
0.35"
1"
0.054"
0.062"
Gold Plated
5
0000000
00000
0.1"
17
2.6
6.5
1.31"
1.06"
0.167"
0.25"
1"
0.054"
0.062"
Gold Plated
5
00000000
00000
0.125"
23
2.2
7
1.3"
1.22"
0.167"
0.25"
0.97"
0.08"
0.1"
Gold Plated
5
0000000
00000
0.125"
41
2.2
7
1.3"
1.22"
0.167"
0.25"
0.97"
0.08"
0.1"
Gold Plated
5
0000000
00000
0.187"
5
2.8
7
1.33"
1.08"
0.17"
0.25"
0.97"
0.09"
0.16"
Gold Plated
5
0000000
00000
0.187"
5
2.8
16.4
1.42"
1.17"
0.17"
0.25"
1.07"
0.13"
0.16"
Gold Plated
5
0000000
00000
0.187"
43
2.2
6
1.32"
1.07"
0.167"
0.25"
0.97"
0.093"
0.155"
Gold Plated
5
0000000
00000
0.187"
55
7
18
1.42"
1.17"
0.167"
0.25"
1.07"
0.125"
0.155"
Gold Plated
5
0000000
00000

Crown Tip

0.039"
4.3
2.2
5.4
1.435"
1.27"
0.167"
0.25"
1.135"
0.024"
0.016"
Gold Plated
5
00000000
00000
0.05"
3
2.4
7
1.7"
1.45"
0.167"
0.25"
1.43"
0.031"
0.021"
Gold Plated
5
0000000
00000
0.05"
5
1.7
7
1.865"
1.548"
0.317"
0.35"
1.43"
0.031"
0.021"
Gold Plated
5
00000000
00000
0.05"
5
2.4
5.6
1.36"
1.12"
0.167"
0.25"
1.09"
0.031"
0.021"
Gold Plated
5
00000000
00000
0.05"
6
1.2
4.8
1.527"
1.21"
0.317"
0.4"
1.09"
0.031"
0.021"
Gold Plated
5
00000000
00000
0.075"
10
1.7
7
1.45"
1.13"
0.317"
0.35"
1"
0.04"
0.026"
Gold Plated
5
00000000
00000
0.075"
11
2.7
7
1.3"
1.05"
0.167"
0.25"
1"
0.04"
0.026"
Gold Plated
5
00000000
00000
0.1"
14
2
7
1.46"
1.14"
0.317"
0.35"
1"
0.054"
0.036"
Gold Plated
5
00000000
00000
0.1"
17
2.6
6.5
1.31"
1.06"
0.167"
0.25"
1"
0.054"
0.036"
Gold Plated
5
00000000
00000
0.125"
5
2.9
7
1.3"
1.05"
0.17"
0.25"
0.97"
0.08"
0.066"
Gold Plated
5
00000000
00000
0.05"
3
0.6
2.5
0.66"
0.56"
0.07"
0.1"
0.52"
0.03"
0.02"
Gold Plated
5
0000000
00000
0.05"
3
2.4
7
1.7"
1.45"
0.167"
0.25"
1.43"
0.031"
0.021"
Gold Plated
5
00000000
00000
0.05"
5
2.4
5.6
1.36"
1.12"
0.167"
0.25"
1.09"
0.031"
0.021"
Gold Plated
5
00000000
00000
0.075"
3
1.5
3.8
0.67"
0.55"
0.07"
0.1"
0.49"
0.04"
0.03"
Gold Plated
5
0000000
0000
0.075"
10
1.7
7
1.45"
1.13"
0.317"
0.35"
1"
0.04"
0.026"
Gold Plated
5
00000000
00000
0.075"
11
2.7
7
1.3"
1.05"
0.167"
0.25"
1"
0.04"
0.026"
Gold Plated
5
0000000
00000
0.1"
12
2.2
5.5
0.97"
0.89"
0.107"
0.16"
0.73"
0.054"
0.04"
Gold Plated
5
0000000
00000
0.1"
14
2
7
1.46"
1.14"
0.317"
0.35"
1"
0.054"
0.036"
Gold Plated
5
00000000
00000
0.1"
17
2.6
6.5
1.31"
1.06"
0.167"
0.25"
1"
0.054"
0.036"
Gold Plated
5
00000000
00000
0.125"
23
2.2
7
1.3"
1.22"
0.167"
0.25"
0.97"
0.08"
0.059"
Gold Plated
5
0000000
00000
0.156"
5
2.8
7
1.33"
1.07"
0.17"
0.25"
0.97"
0.09"
0.08"
Gold Plated
5
0000000
00000
0.187"
5
2.8
16.4
1.42"
1.17"
0.17"
0.25"
1.07"
0.13"
0.094"
Gold Plated
5
00000000
00000
0.25"
2
0.5
1.6
1.17"
0.083"
0.107"
0.16"
1"
0.016"
0.009"
Gold Plated
5
00000000
00000

Chisel Tip

0.039"
4.3
2.2
5.4
1.435"
1.27"
0.167"
0.25"
1.135"
0.024"
0.016"
Gold Plated
5
00000000
00000
0.05"
3
2.4
7
1.7"
1.45"
0.167"
0.25"
1.43"
0.031"
0.021"
Gold Plated
5
0000000
00000
0.05"
5
1.7
7
1.865"
1.548"
0.317"
0.35"
1.43"
0.031"
0.035"
Gold Plated
5
00000000
00000
0.05"
5
2.4
5.6
1.36"
1.12"
0.167"
0.25"
1.09"
0.031"
0.021"
Gold Plated
5
00000000
00000
0.05"
6
1.2
4.8
1.527"
1.21"
0.317"
0.4"
1.09"
0.031"
0.035"
Gold Plated
5
00000000
00000
0.075"
10
1.7
7
1.45"
1.13"
0.317"
0.35"
1"
0.04"
0.026"
Gold Plated
5
00000000
00000
0.075"
11
2.7
7
1.3"
1.05"
0.167"
0.25"
1"
0.04"
0.026"
Gold Plated
5
00000000
00000