Toggle-Lock

Clevis Pins with Handle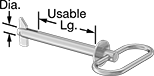 A swivel handle makes these pins easy to install and remove, while the toggle locks them in place. Flip the toggle to release the pin.
Zinc-plated carbon steel pins have good strength and some corrosion resistance.
18-8 stainless steel pins offer a balance of strength and corrosion resistance. They may be mildly magnetic.
For technical drawings and 3-D models, click on a part number.
Usable


Lg.

Dia.

Tolerance

Min.

Hardness
Each

Zinc-Plated

1004-1045

Carbon Steel

2

3/4

"
-0.003" to 0.001"
Rockwell B90
000000000
000000
4"
-0.003" to 0.001"
Rockwell B90
000000000
00000
3

1/2

"
-0.003" to 0.001"
Rockwell B90
000000000
00000
5

1/2

"
-0.003" to 0.001"
Rockwell B90
000000000
00000
3

1/2

"
-0.003" to 0.001"
Rockwell B90
000000000
00000
5

1/2

"
-0.003" to 0.001"
Rockwell B90
000000000
00000
3

1/2

"
-0.003" to 0.001"
Rockwell B90
000000000
00000
6"
-0.003" to 0.001"
Rockwell B90
000000000
00000
3

1/2

"
-0.003" to 0.001"
Rockwell B90
000000000
00000
6"
-0.003" to 0.001"
Rockwell B90
000000000
00000
3

1/2

"
-0.004" to 0.001"
Rockwell B90
000000000
00000
6"
-0.004" to 0.001"
Rockwell B90
000000000
00000

Zinc-Plated

1045 Carbon Steel

6

1/4

"
-0.005" to 0"
Rockwell B70
000000000
00000
7"
-0.010" to 0"
Rockwell B70
000000000
00000
70mm
-0.090mm to 0mm
Rockwell B70
000000000
0000
90mm
-0.110mm to 0mm
Rockwell B70
000000000
00000
90mm
-0.110mm to 0mm
Rockwell B70
000000000
00000
150mm
-0.130mm to 0mm
Rockwell B70
000000000
00000
100mm
-0.130mm to 0mm
Rockwell B70
000000000
00000
150mm
-0.130mm to 0mm
Rockwell B70
000000000
00000
2

3/4

"
-0.004" to 0"
Not Rated
00000000
00000
4"
-0.004" to 0"
Not Rated
00000000
00000
3

1/2

"
-0.005" to 0"
Not Rated
00000000
00000
5

1/2

"
-0.005" to 0"
Not Rated
00000000
00000
3

1/2

"
-0.005" to 0"
Not Rated
00000000
00000
5

1/2

"
-0.005" to 0"
Not Rated
00000000
00000
3

1/2

"
-0.005" to 0"
Not Rated
00000000
00000
6"
-0.005" to 0"
Not Rated
00000000
000000