Twist-to-Lock

Press-Fit

Captive-Panel

Retractable Spring Plungers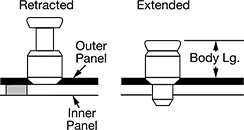 Lock the nose in the retracted position by pulling the knob and rotating it 90°. Use an arbor press or similar pressure tool to install these spring plungers into a panel. They have a spring-loaded pin that retracts to release sliding parts. Use them as a locator or hinge pin on removable doors. The body is zinc-plated steel to resist corrosion in wet environments.
For technical drawings and 3-D models, click on a part number.
For Outer
Panel

Thick.

Outer
Panel
Inner
Panel

Dia.

Lg.

Dia.

Lg.

Handle Material
Each

Zinc-Plated

Steel Body and Steel Nose

0.06" to 0.15"
0.328"
0.252"
0.45"
0.48"
0.249"
0.32"
Nickel-Plated Steel
000000000
00000