Wear-Recognition

Go Plug Gauges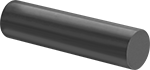 A black-oxide treatment on these go gauges shows wear patterns so you can tell when you need to calibrate or replace the gauge—use them to check to minimum hole diameter. They help you measure hole sizes and depths, check hole location and distance, and set micrometers. All come with a certificate of accuracy traceable to NIST that states they've passed a test for accuracy.
If a go gauge can enter the hole and a no-go gauge is unable to enter, the hole is within tolerance.
For technical drawings and 3-D models, click on a part number.
Choose
a
Size
Increment
Gauge
Tolerance
Length
Surface
Smoothness


(RMS),

microinch
Hardness
Material
Each

Class ZZ

0.0110" to 0.0605"
0.0005"
0" to 0.0002"
2"
10
Rockwell C60
Black-Oxide Tool Steel
00000000
00000
0.0610" to 0.5005"
0.0005"
0" to 0.0002"
2"
10
Rockwell C60
Black-Oxide Tool Steel
00000000
0000
0.5010" to 0.6255"
0.0005"
0" to 0.0002"
2"
10
Rockwell C60
Black-Oxide Tool Steel
00000000
0000
0.6260" to 0.7505"
0.0005"
0" to 0.0002"
2"
10
Rockwell C60
Black-Oxide Tool Steel
00000000
0000