Connection Style

Connection Style
Connection Type

Connection Type
DFARS (Defense Acquisition Regulations Supplement)

DFARS

(Defense

Acquisition
Regulations

Supplement)
Clamp-On Connection Type

Clamp-

On Connection Type
Maximum Pressure

Maximum Pressure
How to

Identify and Measure Fittings
Pipe size is an industry designation, not the actual size. View information about how to measure threaded and unthreaded pipe and pipe fittings.
Drain,

Waste,

and Vent Iron Pipe Fittings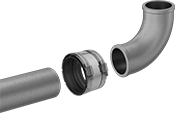 Use these fittings in gravity-flow applications both above and below ground. They are also known as no-hub pipe fittings and soil pipe fittings. To connect, place the end of the fitting against your pipe or another fitting and connect with a low-pressure clamp-on connector (sold separately). The clamp-on connector is also known as a no-hub coupling. Fittings are for use in noncorrosive environments.
The 270° bend connectors are also known as P-traps.
For technical drawings and 3-D models, click on a part number.