How to

Identify and Measure Fittings
Pipe size is an industry designation, not the actual size. View information about how to measure threaded and unthreaded pipe and pipe fittings.
Medium-Pressure

Pipe Fittings for Joining Dissimilar Metals
Use these unions to connect different metals in a piping or plumbing system. They have a plastic sleeve that inhibits destructive corrosion. Use them for connections that must be electrically insulated. Unions separate into three pieces for access to your line.
Copper tube size is the accepted designation of the copper tubing industry, not the actual tube OD.
For technical drawings and 3-D models, click on a part number.
Union Straight Connectors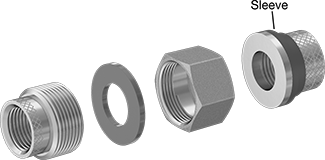 Exploded View
For Use

With:

Air,

Water,

Oil,

Natural Gas

Max.Temperature:

180° F
Union Straight Socket-Connect Adapters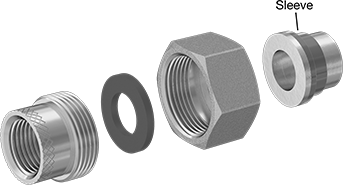 Exploded View
For Use

With:

Air,

Water,

Oil,

Natural Gas

Max.Temperature:

180° F
Pipe
Size

Copper
Tube Size
For Tube
OD

Max.

Pressure
Each

NPT Female × Socket Connect Female

1/2

1/2

5/8

"
250 psi @ 72° F
000000
000000

3/4

1/2

5/8

"
250 psi @ 72° F
000000
00000

3/4

3/4

7/8

"
250 psi @ 72° F
000000
00000
1

1
1

1/8

"
250 psi @ 72° F
000000
00000
1

3/4

7/8

"
250 psi @ 72° F
000000
00000
1

1/4

1

1/4

1

3/8

"
250 psi @ 72° F
000000
00000
1

1/2

1

1/2

1

5/8

"
250 psi @ 72° F
000000
000000
2

2
2

1/8

"
250 psi @ 72° F
000000
000000