Ceiling Leak Drainage Tarps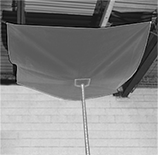 Protect work areas and equipment from overhead leaks with these rot- and chemical-resistant tarps. They hang from D-rings sewn into each corner. 12'×12' and larger tarps also have D-rings at the center of each side. To drain, connect the threaded drain spout to any standard garden hose.
Polyester and polyethylene tarps stay flexible in low temperatures.
Wd.

Lg.

Thick.,


mil

Wd.

Ht.

Material
Thread
Size
Thread
Type
Gender
Breathable
UV
Resistant

Min.


Temperature
for

Flexibility,

°F

Specifications
Met
Color
Each

Sheet

Vinyl-Coated

Polyester Fabric

3'
3'
15
1"
1"
Steel

3/4

"
GHT

Male
No
No
-20°
California Fire Marshal Approved
Semi-Clear
0000000
000000
4'
4'
15
1"
1"
Steel

3/4

"
GHT

Male
No
No
-20°
California Fire Marshal Approved
Semi-Clear
0000000
00000
5'
5'
15
1"
1"
Steel

3/4

"
GHT

Male
No
No
-20°
California Fire Marshal Approved
Semi-Clear
0000000
00000
6'
6'
15
1"
1"
Steel

3/4

"
GHT

Male
No
No
-20°
California Fire Marshal Approved
Semi-Clear
0000000
00000
7'
7'
15
1"
1"
Steel

3/4

"
GHT

Male
No
No
-20°
California Fire Marshal Approved
Semi-Clear
0000000
00000
8'
8'
15
1"
1"
Steel

3/4

"
GHT

Male
No
No
-20°
California Fire Marshal Approved
Semi-Clear
0000000
000000
10'
10'
15
1"
1"
Steel

3/4

"
GHT

Male
No
No
-20°
California Fire Marshal Approved
Semi-Clear
0000000
000000
12'
12'
15
1"
1"
Steel

3/4

"
GHT

Male
No
No
-20°
California Fire Marshal Approved
Semi-Clear
0000000
000000
15'
15'
15
1"
1"
Steel

3/4

"
GHT

Male
No
No
-20°
California Fire Marshal Approved
Semi-Clear
0000000
000000
20'
20'
15
1"
1"
Steel

3/4

"
GHT

Male
No
No
-20°
California Fire Marshal Approved
Semi-Clear
0000000
000000