Extra-Tough

Super-Cushioning

Polyethylene Foam Sheets and Strips
These sheets and strips are made of cross-linked polyethylene, so they are stronger and more chemical resistant than other types of polyethylene foam. They also have excellent buoyancy and resist mildew. These sheets and strips are widely used in packaging applications to absorb shock and damp vibration. Foam has closed-cell construction, which restricts water, air, and gases from being absorbed.
For technical drawings and 3-D models, click on a part number.
Sheets with Smooth Texture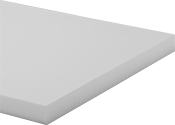 Color:

Gray or White
Temperature

Range:

-20° to 160° F

Cell

Type:

Closed

For Use

Outdoors:

Yes

Flexibility:

Semi-Rigid

Density:

2

lbs./cu.

ft.

Pressure to Compress

25%:

7 psi

(Extra

Soft)

Tensile Strength

Rating:

Fair

Oil-

Resistance

Rating:

Not Rated
Adhesive-Back Sheets with Smooth Texture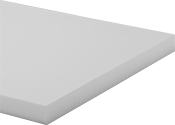 Color:

Gray or White
Temperature

Range:

-20° to 160° F

Cell

Type:

Closed

For Use

Outdoors:

Yes

Flexibility:

Semi-Rigid

Density:

2

lbs./cu.

ft.

Pressure to Compress

25%:

7 psi

(Extra

Soft)

Tensile Strength

Rating:

Fair

Oil-

Resistance

Rating:

Not Rated
Strips with Smooth Texture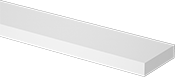 Color:

Gray or White
Temperature

Range:

-20° to 160° F

Cell

Type:

Closed

For Use

Outdoors:

Yes

Flexibility:

Semi-Rigid

Density:

2

lbs./cu.

ft.

Pressure to Compress

25%:

7 psi

(Extra

Soft)

Tensile Strength

Rating:

Fair

Oil-

Resistance

Rating:

Not Rated