REACH (Registration, Evaluation, Authorization and Restriction of Chemicals)

REACH

(Registration,




Evaluation,

Authorization
and Restriction of

Chemicals)
RoHS (Restriction of Hazardous Substances)

RoHS

(Restriction

of
Hazardous

Substances)
Adjustability

Adjustability
DFARS (Defense Acquisition Regulations Supplement)

DFARS

(Defense

Acquisition

Regulations

Supplement)
Heavy Duty
Ball-Grip

Positioning Arms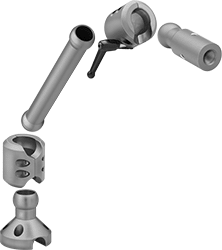 Arm Built
with
Base,
Two Straight
Connectors,
Straight
Link,
Locking
Handle,
and Sensor Mount
With strength for higher load capacities than other ball-grip positioning arms, these arms have a heavy duty construction. Ball-and-socket connections allow 360° positioning. The base, connectors, and links are hollow for routing wires, cables, and small hoses. Select a base, connectors, link, and plate or mount to build a complete arm.
For technical drawings and 3-D models, click on a part number.

For 8
mm and 12 mm
Sensor/Switch
OD

For 18
mm and 30 mm
Sensor/Switch
OD
Sensor mounts are threaded for sensors. They have sight holes so you can view indicator lights.