Adjustability

Adjustability
DFARS (Defense Acquisition Regulations Supplement)

DFARS

(Defense

Acquisition

Regulations

Supplement)
For Ball Diameter

For Ball Diameter
REACH (Registration, Evaluation, Authorization and Restriction of Chemicals)

REACH

(Registration,




Evaluation,

Authorization
and Restriction of

Chemicals)
RoHS (Restriction of Hazardous Substances)

RoHS

(Restriction

of
Hazardous

Substances)
Ball-Grip

Positioning Arms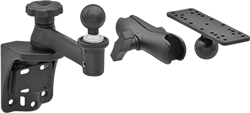 Arm Built
with Rotating Complete Arm with
Ball,
Rigid
Connector,
and Universal Mounting Plate
Ball-and-socket connections allow 360° positioning. Choose a complete arm or select a base, connectors, and a plate, grip, holder, or tray to build a complete arm.
For technical drawings and 3-D models, click on a part number.

Swivel connector swivels to position both halves of the connector independently. With separate handles, you can lock one joint while positioning the other joint.
Lg.

For Ball


Dia.

Max.

Load


Capacity,

lbs.

Material
Each
6"
1

1/2

"
3
Plastic
00000000
000000