For Use With

For Use With
Show
For Use With

For Use With
Hide
Warning: Products have one, but not necessarily all, of the selected characteristics.
DFARS (Defense Acquisition Regulations Supplement)

DFARS

(Defense

Acquisition

Regulations

Supplement)
Installation Type

Installation Type
REACH (Registration, Evaluation, Authorization and Restriction of Chemicals)

REACH

(Registration,




Evaluation,

Authorization
and Restriction of

Chemicals)
RoHS (Restriction of Hazardous Substances)

RoHS

(Restriction

of
Hazardous

Substances)
Curb-Style

Storm Drain Filters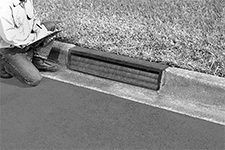 Prevent rainwater from carrying trash, debris, and sediment into sewers. These filters are often used on construction sites. They mount inside curb openings, keeping them out of the way of vehicles.
In addition to solids, 22"-35" filters remove oil and fuels from storm water. Two tension rods hold the filters in place.