High-Capacity

Plastic

Y-Strainers

Polypropylene Plastic
Max.

Pressure for

Water:

150

psi @

70° F

Temp.

Range:

40° to 140° F
A wide two-piece body holds more debris than other plastic Y-strainers. The body comes apart for easy cleaning without disconnecting your line. Strainers are made of lightweight plastic for excellent corrosion resistance. Install them in your pipeline to prevent damage to valves, pumps, nozzles, and other sensitive equipment.
For technical drawings and 3-D models, click on a part number.
Screens for
High-Capacity

Plastic

Y-Strainers
Polyester Basket Strainers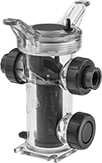 Shown with
Socket-Connect
Pipe Connections
Max.

Pressure for

Water,

Oil,

and Diesel

Fuel:

100

psi @

70° F

Temp.

Range:

35° to 120° F
Made of clear polyester, these basket strainers let you monitor collecting debris without stopping flow in your system. They are lightweight with excellent corrosion resistance. Commonly used in high-flow industrial processes, basket strainers hold more debris than all of our other strainers. Use them as a safeguard to protect sensitive equipment from particle damage.
Strainers have two outlets for installation in inline or parallel pipe connections and a threaded drain with a plug for easy cleaning. They come with two sets of union adapters that allow easy access to your line: one with threaded pipe connections and one with socket-connect pipe connections. The socket-connect pipe connections attach to unthreaded pipe with cement for a permanent, leak-tight connection.
For technical drawings and 3-D models, click on a part number.
Socket-Connect


Pipe
Connections

Pipe
Size

Thread
Type
Pipe
Size

Type

Lg.

Ht.

Gasket
Material
Features
Choose a
Basket
Opening Size
Each
Each
1

NPT

1

Cement
8

5/8

"
11

11/16

"
Fluoroelastomer Rubber
Outlet Plug, Removable Cover, Threaded Drain with Plug, Two Outlets, Two Union End Connections
0000000
0000000
0000000
0000000
1

1/2

NPT

1

1/2

Cement
12

9/16

"
15

1/2

"
Fluoroelastomer Rubber
Outlet Plug, Removable Cover, Threaded Drain with Plug, Two Outlets, Two Union End Connections
0000000
000000
0000000
000000
2

NPT

2

Cement
12

3/4

"
15

1/2

"
Fluoroelastomer Rubber
Outlet Plug, Removable Cover, Threaded Drain with Plug, Two Outlets, Two Union End Connections
0000000
000000
0000000
000000