Wall-Mount

Bulk Dispensers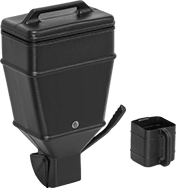 Pull the handle to dispense bulk material quickly through a gravity-fed, wide-mouth opening.
Cap.,




lbs.

Wd.

Dp.

Ht.

Wd.

Dp.

Material
Color
Mounting
Fasteners Included
Includes
Each
40
16"
10"
25"
4"
4

3/4

"
Polyethylene Plastic

Black
Yes
Dispensing Cup
0000000
000000
Food Industry Bulk Dispensers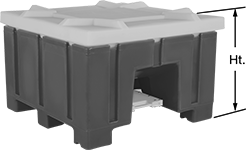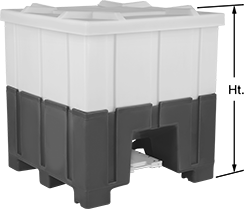 FDA compliant for direct contact with food, these dispensers are often used to store or quickly dispense dry ingredients in food and pharmaceutical plants. Made of durable polyethylene, which resists chemicals and corrosion, they have a smooth, seamless interior to minimize the space where bacteria can grow. They're also lightweight, so you can easily move them, even when they are full.
These dispensers have an open top for easy filling and cleaning; they have a V-shaped bottom for easy dispensing. Pull the handle to open the slide gate and release the contents. The farther you pull the handle, the faster you will dispense the contents. Both dispensers fit into an included base, which creates a double wall to protect the bottom from damage. It also keeps the slide gate from accidentally opening. You can use a forklift or pallet jack to lift the base and move these dispensers around your plant. A removable lid keeps contaminants out of your ingredients.
When full, you can stack these dispensers two-high. Empty dispensers can be nested even higher to save more space.
Cap.,




lbs.

Wd.

Dp.

Ht.

Dispensing
Opening


Dia.

Material
Color
Space
Saving
Features
Specifications
Met
Includes
Each
2,000
44"
44"
31"
10"
Polyethylene Plastic

Blue/White
Nestable
FDA Compliant 21 CFR 177.1520

24" × 13" Slide Gate, Removable Lid
0000000
000000000
2,000
44"
44"
50"
10"
Polyethylene Plastic

Blue/White
Nestable
FDA Compliant 21 CFR 177.1520

24" × 13" Slide Gate, Removable Lid
0000000
00000000