About Safety Ratings for Electrical Testing
Power Consumption Meters


Measure the amount of power your devices draw and calculate energy costs with these consumption meters. Plug them directly into an outlet, and plug your tool or appliance into the front of the meter. To track your power costs, enter the local price per kilowatt-hour (kWh) into the meter, and they'll display the total amount you're spending. They also help you monitor the quality of electricity coming from your outlet.
These meters meet U.S. and international safety standards. Rated CAT II, 150V, they can be safely used with most single-phase AC appliances and tools.
Max.




Power,


W

Max.


AC
Voltage
AC
Voltage
Accuracy

Max.

AC


Current,


A
Current
Accuracy

Max.




Frequency,


Hz

Max.

Power


Consumption,


kWh

Max.


Electrical
Cost

Ht.

Wd.

Dp.

Specifications
Met
Plug
Type
Features
Each
1,800
150V AC
1%
15
1%
65
9,999
$9,999
5.1"
2.6"
1

1/2

"
UL Listed, CSA Certified, CE Marked, ETL Listed
Three Prong
Backup Battery
0000000
000000
Voltage and Current Loggers
Record data over time to monitor energy consumption and troubleshoot intermittent problems such as voltage spikes. These loggers connect to a computer to download data for later analysis.
Set the sampling interval to determine how often the logger takes measurements. True RMS loggers take more accurate AC measurements than other loggers.
Measures AC Voltage and Current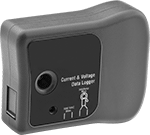 Data
Log
Capacity
Electrical
Phase
AC
Voltage
AC
Voltage
Accuracy

Current,


A
Current
Accuracy
Sampling
Interval
Includes
For
Operating
System
Software
Included
Included
Size

No.


Required
Each
10,750
Single
0-500
1V
0-300
5%
1 sec. to 18 hrs.
Carrying Case, Clamp-On Probe with 1.1" Jaw Opening, Test Leads with Alligator Clips
Windows 10 and earlier
No, Required
No
9V
1
0000000
0000000
Measures AC and DC Voltage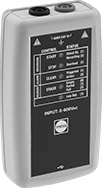 Data
Log
Capacity
AC
Calculation
Electrical
Phase
Safety
Rating
AC
Voltage
AC
Voltage
Accuracy
DC
Voltage
DC
Voltage
Accuracy
Sampling
Interval
Includes
For
Operating
System
Software
Included
Batteries
Included
Each
240,000
True RMS
Single
CAT IV, 300V
0-600
0.5%
0 to 600
0.5%
125 ms to 24 hrs.
Test Leads with Alligator Clips, USB Cord
Windows 10 and earlier
Yes
Yes
0000000
0000000