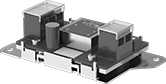 When your power supply sends out DC power at a higher voltage than you need, change to the proper voltage with these converters. They're often used when a specific component, such as a sensor, requires a lower voltage than surrounding equipment. Use them to correct power supplies that send uneven voltages, too—they provide electricity at a stable, consistent voltage. They mount on flat surfaces, and are commonly fastened inside enclosures.
If you exceed the current limit, these converters will shut down to protect your equipment. Some converters have overvoltage protection, so they'll do the same if you exceed voltage limits.
The lower a converter's maximum output noise, also known as ripple noise, the less electronic interference it creates. These converters will work in most applications.
For technical drawings and 3-D models, click on a part number.
Screw Terminals Input and Output—2 Output Power Connections
Voltage

Current,


A

Power,


W

Max.

Output


Noise,

mVpp

Ht.

Wd.

Dp.

Mounting
Fasteners
Included
Protections
Provided
Each

Single Phase–9V

DC-36V

DC Input Voltage

-5V DC, 5V DC
1.5
15
150
3.7"
2.1"
1.1"
No
Overcurrent
00000000
000000
-5V DC, 5V DC
2
20
150
4.6"
2.1"
1.1"
No
Overcurrent, Overvoltage
00000000
00000

Single Phase–18V

DC-76V

DC Input Voltage

-5V DC, 5V DC
1.5
15
150
3.7"
2.1"
1.1"
No
Overcurrent
00000000
00000
-5V DC, 5V DC
2
20
150
4.6"
2.1"
1.1"
No
Overcurrent, Overvoltage
00000000
00000