Economy Benchtop Power Supplies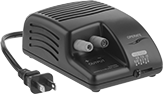 Convert 120V AC to six common DC voltages with these power supplies. They're often used for simple, low-power tests on electrical circuits and devices, as well as for prototyping. Plug your equipment into the output sockets with banana plugs, and slide the selector switch to choose the voltage. They cannot be sold to the regions listed due to local energy efficiency requirements.
These power supplies use switching regulation, which means they produce the stated voltage despite fluctuations in your input power and the power being drawn by your system. It also means they won't get too hot.
When they convert AC voltage to DC voltage, some noise from the AC voltage will carry into the output. While this won't affect most applications, this noise can interfere with other signals in extremely sensitive applications. The lower the output noise, the less interference it creates.
Banana Jack Socket Output

No.

of Output
Power
Connections
Voltage

Current,


A

Power,


W

Max.

Output


Noise,


mVpp
Output
Connection
Location
Output
Features

Ht.

Wd.

Dp.

Cannot
Be
Sold To
Each

Single

Phase—

120V AC Input Voltage

1
3.3V DC, 4.5V DC, 6V DC, 7.5V DC, 9V DC, 12V DC
3
9.9, 13.5, 18, 22.5, 27, 36
100
Front
Constant Current, Constant Voltage, Output Voltage Selector Switch
2"
4"
4"
CA, VT
0000000
000000