Motor-Starting

DIN-Rail

Power Supplies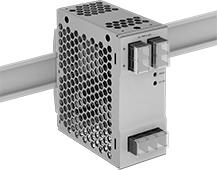 Single Phase with Screw Terminals
Convert AC voltage to power DC motors, solenoid valves, charging capacitors, and other devices that require large start-up current. These power supplies mount onto DIN rails and are capable of briefly boosting power above their maximum output. It means you don't have to use an oversized power supply just to handle spikes in demand. With a set of standard features, they're a cost-effective way to power motors in clean, controlled environments that have a stable supply of electricity. They're not recommended for tough industrial environments.
All of these power supplies use switching regulation, which means they produce the stated voltage despite fluctuations in your input power and the power being drawn by your system, and they won't become too hot.
If you exceed the maximum voltage, current, or load, these power supplies shut down to protect both the power supply and the connected equipment. Some also meet the voltage requirements for use in an SELV (separated extra low voltage) circuit.
With various domestic and international certifications, such as UL listing, CE marking, and TUV certification, these power supplies meet stringent safety standards.
Power supplies that have a Class I, Division 2 environmental rating are safe for use in environments that are not normally hazardous, but where concentrations of combustible gases may occur infrequently. Some power supplies have an ATEX rating, which is an international standard for hazardous environments.
Maximum output noise is also known as ripple noise. The lower the value, the less interference the power supply creates. For most applications, a value over 100mVpp isn't a problem. However, when using to power extremely sensitive electronics, such as audio equipment and high- precision measuring and testing equipment, you'll want an output noise around 5mVpp or less.
Power factor shows how effectively a power supply draws AC power from the main electrical supply. The higher the power factor—up to a maximum score of 1—the lower your operating cost.
Efficiency describes how good a power supply is at converting the AC power it draws from your main electrical supply into DC power. High-efficiency power supplies cost less money to operate and produce less heat, meaning cooler temperatures in your electrical cabinet.
Power supplies that cannot be sold to the regions listed are restricted by local energy efficiency requirements.
Voltage


(Adjustment Range)

Current,


A
Peak
Current

Max.

Output Noise


Peak-to-Peak,


mV DC
Power
Factor
Efficiency
For Isolated
Low Voltage
Circuit Type
Environmental
Rating
Cannot
Be
Sold To
Each

Single

Phase—

100-240V

AC Input Voltage

Screw Terminals Input and Output

12V DC (11-14V DC)
5
7.5 A, 3 seconds
100
Not Rated
86% @ 115 V AC
86% @ 230 V AC
SELV
NEC Class I Division 2 Groups A, B, C, D
IEC Zone 2 Groups IIC, IIB, IIA
__
00000000
000000
12V DC (11-14V DC)
8.33
12.495 A, 3 seconds
100
Not Rated
85.5% @ 115 V AC
87.5% @ 230 V AC
SELV
NEC Class I Division 2 Groups A, B, C, D
IEC Zone 2 Groups IIC, IIB, IIA
CA
00000000
00000