Outdoor
Set-to-the-Minute

High-Current

Time and Day Activated Switches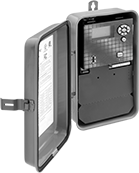 Rated NEMA 3R, these rain-tight switches protect against falling liquids and light splashing. More precise than other time and day switches, they program on/off times for equipment down to the exact minute. They control equipment with high currents, such as landscape lighting, pumps, and heaters. A backup battery maintains the program during a power outage.
Seven-day/365-day switches can perform a different program each day of the week or year, and compensate for leap year and daylight savings time. Override regular programming for up to 99 holidays for any length of time. They can also be used to activate equipment such as bells and signals for just a few seconds.
Switches with astronomical timing can be set to turn lights on and off based on sunrise and sunset.
No.

of
Circuits
Controlled
Switching
Current @
Voltage
Input
Voltage
Maximum


On/Off


Cycles
Minimum
Set
Time
Timing
Adjustment
Style
Housing
Material
Industry
Designation

Ht.

Wd.

Dp.

Fasteners
Included
Hole


Dia.

Wire
Connection
Type
Each

7-Day/365-Day

Timing Cycle

With Battery

Backup,

Lockout,

Astronomical Timing

1
30 A @ 240 V AC
120V AC/208V AC/240V AC/277V AC
4,000 per Year
1 min.
Push Button
Steel
SPDT

8

5/8

"
5

3/4

"
3

5/8

"
No
0.19"
Screw Terminals
00000000
0000000
2
30 A @ 240 V AC
120V AC/208V AC/240V AC/277V AC
4,000 per Year
1 min.
Push Button
Steel
SPDT

8

5/8

"
5

3/4

"
3

5/8

"
No
0.19"
Screw Terminals
00000000
000000