Heated Air Curtains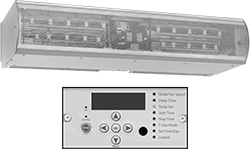 These curtains generate a stream of warm air to maintain inside temperatures when doors are open in cold weather. They also keep out dust, dirt, insects, and fumes while allowing personnel to pass through. All have wire leads for hardwiring. They can be wall mounted or suspended from threaded rod. To wall mount, drill 1/4" holes in the included mounting plate; to suspend, use the four 1/4"-20 threaded inserts in the top cover.
Single-phase units for 48" frame opening width require two circuits.
Optional door switches turn air curtains on when the door is opened and off when it is closed.
Wd.

Ht.

Wd.

Ht.

Dp.

Heat


Output,




Btu/hr.

Airflow,


cfm
Volume
@
Distance

No.


of
Motors
Power
per


Motor,

hp

Current,


A
Thermostat


Temp.




Range,

°F

Specifications
Met
For
Use
Outdoors
Features

Mount.


Fasteners
Included
Each

Single-Phase

Air Curtains

208V AC

36"
96"
38

1/8

"
8

1/4

"
16"
34,100
951
50 dBA @ 15 ft.
1

1/5

49.8
34° to 90°
C-UL Listed, UL Listed
No
Timer
No
00000000
000000000
48"
96"
50

1/8

"
8

1/4

"
16"
49,100
1,334
50 dBA @ 15 ft.
1

1/5

70.9
34° to 90°
C-UL Listed, UL Listed
No
Timer
No
00000000
00000000

240V AC

36"
96"
38

1/8

"
8

1/4

"
16"
34,100
951
50 dBA @ 15 ft.
1

1/5

43.4
34° to 90°
C-UL Listed, UL Listed
No
Timer
No
00000000
00000000
48"
96"
50

1/8

"
8

1/4

"
16"
49,100
1,334
50 dBA @ 15 ft.
1

1/5

61.7
34° to 90°
C-UL Listed, UL Listed
No
Timer
No
00000000
00000000

208V AC

36"
96"
38

1/8

"
8

1/4

"
16"
34,100
951
50 dBA @ 15 ft.
1

1/5

29.5
34° to 90°
C-UL Listed, UL Listed
No
Timer
No
00000000
00000000
48"
96"
50

1/8

"
8

1/4

"
16"
49,100
1,334
50 dBA @ 15 ft.
1

1/5

41.7
34° to 90°
C-UL Listed, UL Listed
No
Timer
No
00000000
00000000
60"
96"
61

1/8

"
8

1/4

"
16"
49,100
1,667
50 dBA @ 15 ft.
1

1/5

41.7
34° to 90°
C-UL Listed, UL Listed
No
Timer
No
00000000
00000000
72"
96"
74

1/8

"
8

1/4

"
16"
68,300
1,780
50 dBA @ 15 ft.
1

1/5

57.3
34° to 90°
C-UL Listed, UL Listed
No
Timer
No
00000000
00000000

240V AC

36"
96"
38

1/8

"
8

1/4

"
16"
34,100
951
50 dBA @ 15 ft.
1

1/5

25.8
34° to 90°
C-UL Listed, UL Listed
No
Timer
No
00000000
00000000
48"
96"
50

1/8

"
8

1/4

"
16"
49,100
1,334
50 dBA @ 15 ft.
1

1/5

36.3
34° to 90°
C-UL Listed, UL Listed
No
Timer
No
00000000
00000000
60"
96"
61

1/8

"
8

1/4

"
16"
49,100
1,667
50 dBA @ 15 ft.
1

1/5

36.3
34° to 90°
C-UL Listed, UL Listed
No
Timer
No
00000000
00000000
72"
96"
74

1/8

"
8

1/4

"
16"
68,300
1,780
50 dBA @ 15 ft.
1

1/5

49.9
34° to 90°
C-UL Listed, UL Listed
No
Timer
No
00000000
00000000

480V AC

36"
96"
38

1/8

"
8

1/4

"
16"
34,100
951
50 dBA @ 15 ft.
1

1/5

12
34° to 90°
C-UL Listed, UL Listed
No
Timer
No
00000000
00000000
48"
96"
50

1/8

"
8

1/4

"
16"
49,100
1,334
50 dBA @ 15 ft.
1

1/5

17.3
34° to 90°
C-UL Listed, UL Listed
No
Timer
No
00000000
00000000
60"
96"
61

1/8

"
8

1/4

"
16"
49,100
1,667
50 dBA @ 15 ft.
1

1/5

17.3
34° to 90°
C-UL Listed, UL Listed
No
Timer
No
00000000
00000000
72"
96"
74

1/8

"
8

1/4

"
16"
68,300
1,780
50 dBA @ 15 ft.
1

1/5

24.1
34° to 90°
C-UL Listed, UL Listed
No
Timer
No
00000000
00000000
| | | | |
| --- | --- | --- | --- |
| Optional Door Switch | 0000000 | Each | 000000 |