Clevis-End

Sleeve-Grip

Wire Rope End

Fittings—

Not for Lifting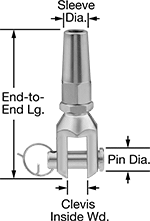 To install, unscrew the fitting, slide over the wire rope, then tighten the pieces together with a wrench. Use for light-duty securing, tethering, and suspending. Made of 316 stainless steel, these are the most corrosion resistant fittings we offer.
Warning: Fittings must match rope diameter and be installed correctly to obtain maximum holding power. Test all assemblies for required strength before use. Do not use with coated rope unless the coating is removed.
For technical drawings and 3-D models, click on a part number.
Dia.

Construction
Sleeve


Dia.

End-to-End




Lg.

Clevis
Inside

Wd.

Pin


Dia.

Each

316 Stainless Steel

1/8

"
1 × 19 Strand Core
7 × 7 Strand Core
7 × 19 IWRC
7 × 19 Strand Core

7/16

"
2

1/2

"

1/4

"

1/4

"
00000000
000000

5/32

"
1 × 19 Strand Core
7 × 7 Strand Core
7 × 19 IWRC
7 × 19 Strand Core

1/2

"
2

7/8

"

5/16

"

5/16

"
00000000
00000

3/16

"
1 × 19 Strand Core
7 × 7 Strand Core
7 × 19 IWRC
7 × 19 Strand Core

9/16

"
3

1/4

"

7/16

"

7/16

"
00000000
00000

1/4

"
1 × 19 Strand Core
7 × 7 Strand Core
7 × 19 IWRC
7 × 19 Strand Core

5/8

"
3

3/4

"

1/2

"

1/2

"
00000000
00000

5/16

"
1 × 19 Strand Core
7 × 7 Strand Core
7 × 19 IWRC
7 × 19 Strand Core

3/4

"
4

11/16

"

9/16

"

9/16

"
00000000
000000

3/8

"
1 × 19 Strand Core
7 × 7 Strand Core
7 × 19 IWRC
7 × 19 Strand Core
1"
5

1/4

"

11/16

"

11/16

"
00000000
000000