Easy-Position

Beam Clamps for

Pipe,

Tube,

and Conduit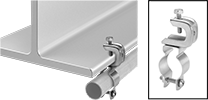 Clamp On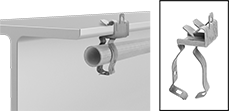 Press Fit
Suspend material at any angle from the beam. Clamps have a fixed jaw that secures to the beam and a hanger that swivels 360° to position material and accommodate for misalignment.
Install clamp-on clamps by tightening the clamping screw. A threaded hole on the side of the clamp supports an additional hanger or routing ring.
Install press-fit clamps by lightly hammering them onto the beam.
For technical drawings and 3-D models, click on a part number.
Mount
Type
For
Beam
Shape
Inch

Metric,


mm
For
Pipe
Size

Min.

Max.

Capacity,




lbs.

Range
of
Motion
Threaded
Hole
Size
Throat


Dp.

Surface
to Pipe
Center

Lg.

Wd.

Ht.

Each

Bottom

Clamp On
Flat; Tapered

11/16

"-

13/16

"
17-21

3/8

,

1/2

__

1/2

"
50
360°

1/4

"-20

1/2

"
1

1/4

"
1

3/4

"
1"
1

1/2

"
00000000
00000
Clamp On
Flat; Tapered

15/16

"-1"
24-25

3/4

__

1/2

"
50
360°

1/4

"-20

1/2

"
1

7/16

"
1

3/4

"
1"
1

1/2

"
00000000
0000
Clamp On
Flat; Tapered
1

3/16

"-1

5/16

"
30-33
1

__

1/2

"
60
360°

1/4

"-20

1/2

"
1

1/2

"
1

3/4

"
1"
1

1/2

"
00000000
0000
Clamp On
Flat; Tapered
1

1/2

"
38
__
__

1/2

"
75
360°

1/4

"-20

1/2

"
1

11/16

"
1

3/4

"
1"
1

1/2

"
00000000
0000
Clamp On
Flat; Tapered
1

11/16

"
43
1

1/4

__

1/2

"
75
360°

1/4

"-20

1/2

"
1

13/16

"
1

3/4

"
1"
1

1/2

"
00000000
0000
Clamp On
Flat; Tapered
1

7/8

"
48
1

1/2

__

1/2

"
75
360°

1/4

"-20

1/2

"
2"
1

3/4

"
1"
1

1/2

"
00000000
0000
Clamp On
Flat; Tapered
2

1/4

"-2

3/8

"
57-60
2

__

1/2

"
75
360°

1/4

"-20

1/2

"
2

1/4

"
1

3/4

"
1"
1

1/2

"
00000000
0000

Bottom and Top Mount

Press Fit
Flat; Tapered

3/4

"-1"
19-25

1/2

1/8

"

1/4

"
75
360°
__
1

1/4

"
1"
1

1/4

"
1

1/2

"
3"
00000000
0000
Press Fit
Flat; Tapered

3/4

"-1"
19-25

1/2

5/16

"

1/2

"
75
360°
__

7/16

"
1

1/16

"
1

3/8

"
1

1/2

"
2

1/2

"
0000000
0000
Press Fit
Flat; Tapered

3/4

"-1"
19-25

1/2

9/16

"

3/4

"
75
360°
__
1

3/8

"
1"
1

1/2

"
1

3/4

"
3

1/2

"
00000000
0000
Press Fit
Flat; Tapered

3/4

"-1"
19-25

1/2

13/16

"
1

1/8

"
75
360°
__
1

1/2

"
1"
1

1/2

"
1

3/4

"
3

3/4

"
00000000
0000
Press Fit
Flat; Tapered
1

3/16

"-1

5/16

"
30-33
1

1/8

"

1/4

"
75
360°
__
1

1/4

"
1

1/2

"
1

1/4

"
1

1/2

"
3

1/2

"
00000000
0000
Press Fit
Flat; Tapered
1

3/16

"-1

5/16

"
30-33
1

5/16

"

1/2

"
75
360°
__

7/16

"
1

7/16

"
1

3/8

"
1

1/2

"
2

1/2

"
0000000
0000
Press Fit
Flat; Tapered
1

3/16

"-1

5/16

"
30-33
1

9/16

"

3/4

"
75
360°
__
1

3/8

"
1

1/2

"
1

1/2

"
1

3/4

"
4"
00000000
0000
Press Fit
Flat; Tapered
1

5/16

"-1

5/8

"
33-41
1

1/4

1/8

"

1/4

"
75
360°
__
1

1/4

"
1

1/2

"
1

1/4

"
1

1/2

"
3

7/8

"
00000000
0000
Press Fit
Flat; Tapered
1

5/16

"-1

5/8

"
33-41
1

1/4

5/16

"

1/2

"
75
360°
__

7/16

"
1

3/4

"
1

3/8

"
1

1/2

"
3

3/4

"
0000000
0000
Press Fit
Flat; Tapered
1

3/4

"-1

7/8

"
44-48
1

1/2

5/16

"

1/2

"
75
360°
__

7/16

"
1

9/16

"
1

3/8

"
1

1/2

"
4

1/8

"
0000000
0000
Press Fit
Flat; Tapered
1

7/8

"-2

3/8

"
48-60
2

5/16

"

1/2

"
75
360°
__

7/16

"
1

15/16

"
1

3/8

"
1

1/2

"
4

5/8

"
0000000
0000
Press Fit
Flat; Tapered
1

7/8

"-2

3/8

"
48-60
2

9/16

"

3/4

"
75
360°
__
1

3/8

"
2"
1

1/2

"
1

3/4

"
5

1/4

"
00000000
0000