Eye-End

Roller Swage Wire Rope End

Fittings—

Not for Lifting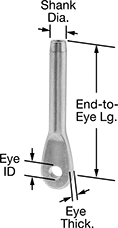 Also known as socket-end swage fittings, install these end fittings with a roller swage press for a strong, permanent hold. They have a thicker shank wall than compression-grip end fittings. Made of 18-8 stainless steel, they offer excellent corrosion resistance to chemicals.
Warning: Fittings must match rope diameter and be installed correctly to obtain maximum holding power. Test all assemblies for required strength before use. Do not use with coated rope unless the coating is removed.
For technical drawings and 3-D models, click on a part number.
Dia.

Construction

End-to-Eye




Lg.

Shank


Dia.

ID

Thick.

Capacity,




lbs.

Specifications
Met
Each

Pkg.




Qty.

Pkg.

1/16

"
1 × 7 Strand Core
1 × 19 Strand Core
7 × 7 Strand Core
7 × 19 IWRC
7 × 19 Strand Core
1

5/8

"

3/16

"

3/16

"

1/16

"
90
MS20668
0000000
00000
2
0000000
0000000

3/32

"
1 × 7 Strand Core
1 × 19 Strand Core
7 × 7 Strand Core
7 × 19 IWRC
7 × 19 Strand Core
2

1/16

"

3/16

"

3/16

"

1/8

"
100
MS20668
0000000
0000
2
0000000
000000

1/8

"
1 × 7 Strand Core
1 × 19 Strand Core
7 × 7 Strand Core
7 × 19 IWRC
7 × 19 Strand Core
2

5/16

"

1/4

"

3/16

"

3/16

"
400
MS20668
0000000
0000
2
0000000
000000

5/32

"
1 × 7 Strand Core
1 × 19 Strand Core
7 × 7 Strand Core
7 × 19 IWRC
7 × 19 Strand Core
2

11/16

"

5/16

"

1/4

"

3/16

"
500
MS20668
0000000
00000
2
0000000
000000

3/16

"
1 × 7 Strand Core
1 × 19 Strand Core
6 × 26 IWRC
6 × 37 IWRC
7 × 7 Strand Core
7 × 19 IWRC
7 × 19 Strand Core
18 × 7 IWRC
19 × 7 Strand Core
3"

3/8

"

5/16

"

1/4

"
800
MS20668
0000000
00000
2
0000000
000000

1/4

"
1 × 7 Strand Core
1 × 19 Strand Core
6 × 26 IWRC
6 × 37 IWRC
7 × 7 Strand Core
7 × 19 IWRC
7 × 19 Strand Core
18 × 7 IWRC
19 × 7 Strand Core
3

3/4

"

1/2

"

3/8

"

5/16

"
1,400
MS20668
0000000
00000
2
0000000
000000