Floor-Mount

Flange-Style

Supports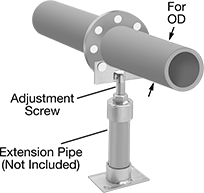 Bolt these supports directly to a pipe flange to suspend a run of pipe above the floor. Unlike clamps and hangers, which fasten to walls and ceilings, these supports mount to the ground. To install, add an extension pipe (not included) that is approximately 4" shorter than the desired height. Tack weld pipe to the base and support, then bolt the base to the floor. Fine-tune the overall height using the adjustment screw.
Galvanized steel supports have good corrosion resistance. 304 stainless steel supports have excellent corrosion resistance.
For technical drawings and 3-D models, click on a part number.
Inch

Metric,


mm
For Flange
ANSI
Class
For
Pipe
Size

Cap.,




lbs.

For
Extension
Pipe Size

Adjustment
Screw


Ht.

Hole


Ctr.-to-Ctr.

Hole


Dia.

Lg.

Wd.

Dia.

No.


of
Mounting
Hardware
Included
Each

Galvanized Steel

2

3/8

"
60
125
2

10,000
2

7"-10"
3

3/8

"

3/4

"
6"
4"

9/16

"
2
No
0000000
0000000
3

1/2

"
89
125
3

10,000
2

7"-10"
4

1/4

"

3/4

"
6"
4"

9/16

"
2
No
0000000
000000
4

1/2

"
114
125
4

10,000
2

7"-10"
2

7/8

"

3/4

"
6"
4"

9/16

"
2
No
0000000
000000
6

5/8

"
168
125
6

10,000
2

7"-10"
3

5/8

"

7/8

"
6"
4"

9/16

"
2
No
0000000
000000
8

5/8

"
219
125
8

10,000
2

7"-10"
4

1/2

"

7/8

"
6"
4"

9/16

"
2
No
0000000
000000
10

3/4

"
273
125
10

10,000
2

7"-10"
3

11/16

"
1"
6"
4"

9/16

"
2
No
0000000
000000
12

3/4

"
324
125
12

10,000
2

7"-10"
4

3/8

"
1"
6"
4"

9/16

"
2
No
0000000
000000

304 Stainless Steel

2

3/8

"
60
125
2

10,000
2

7"-10"
3

3/8

"

3/4

"
6"
4"

9/16

"
2
No
00000000
000000
3

1/2

"
89
125
3

10,000
2

7"-10"
4

1/4

"

3/4

"
6"
4"

9/16

"
2
No
00000000
000000
4

1/2

"
114
125
4

10,000
2

7"-10"
2

7/8

"

3/4

"
6"
4"

9/16

"
2
No
00000000
000000
6

5/8

"
168
125
6

10,000
2

7"-10"
3

5/8

"

7/8

"
6"
4"

9/16

"
2
No
00000000
000000
8

5/8

"
219
125
8

10,000
2

7"-10"
4

1/2

"

7/8

"
6"
4"

9/16

"
2
No
00000000
000000
10

3/4

"
273
125
10

10,000
2

7"-10"
3

11/16

"
1"
6"
4"

9/16

"
2
No
00000000
000000
12

3/4

"
324
125
12

10,000
2

7"-10"
4

3/8

"
1"
6"
4"

9/16

"
2
No
00000000
000000