Heavy Duty Hex Head Tapping Screws for
Concrete,

Block,

and Brick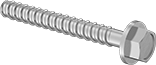 Zinc-Plated
410 Stainless Steel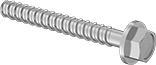 Also known as Tapcons, use these screws in applications requiring high strength. All have a hex-washer head for a secure grip with a wrench. Drive into a hole with a hammer drill or socket wrench. Pull-out strength and shear strength values are 25% of the ultimate values.
410 stainless steel screws are strong, wear resistant, mildly chemical resistant, and magnetic. They have a zinc plating that adds extra corrosion resistance
Steel screws are strong and wear resistant. They have a zinc plating that adds some corrosion resistance, but they aren't as corrosion resistant as stainless steel.
For technical drawings and 3-D models, click on a part number.
Lg.

Screw
Size
Drill
Bit
Size
Thread


Lg.

Min.


Installation


Dp.

Wd.

Ht.

Pull-Out

Shear
Tested
In
Drive
Style

Pkg.




Qty.

Pkg.

Zinc-Plated

410 Stainless Steel

2

1/2

"

3/8

"

5/16

"
2

1/4

"
1

1/2

"

9/16

"

3/8

"
490
850
4,000 psi Concrete
External Hex

1
000000000
00000
3"

3/8

"

5/16

"
2

5/8

"
1

1/2

"

9/16

"

3/8

"
490
850
4,000 psi Concrete
External Hex

1
000000000
0000
4"

3/8

"

5/16

"
3

5/8

"
1

1/2

"

9/16

"

3/8

"
490
850
4,000 psi Concrete
External Hex

1
000000000
00000
5"

3/8

"

5/16

"
3

5/8

"
1

1/2

"

9/16

"

3/8

"
490
850
4,000 psi Concrete
External Hex

1
000000000
00000
3"

1/2

"

7/16

"
2

3/4

"
2

1/2

"

3/4

"

7/16

"
1,000
1,800
4,000 psi Concrete
External Hex

1
000000000
00000
4"

1/2

"

7/16

"
3

3/4

"
2

1/2

"

3/4

"

7/16

"
1,000
1,800
4,000 psi Concrete
External Hex

1
000000000
00000
5"

1/2

"

7/16

"
4

3/4

"
2

1/2

"

3/4

"

7/16

"
1,000
1,800
4,000 psi Concrete
External Hex

1
000000000
00000
1

1/4

"

1/4

"

1/4

"
1

1/4

"
1"

7/16

"

5/16

"
380
480
4,000 psi Concrete
External Hex

10
000000000
0000
1

3/4

"

1/4

"

1/4

"
1

5/8

"
1"

7/16

"

5/16

"
380
480
4,000 psi Concrete
External Hex

10
000000000
0000
2

1/4

"

1/4

"

1/4

"
1

5/8

"
1"

7/16

"

5/16

"
380
480
4,000 psi Concrete
External Hex

10
000000000
0000
2

5/8

"

1/4

"

1/4

"
2

1/2

"
1"

7/16

"

5/16

"
380
480
4,000 psi Concrete
External Hex

10
000000000
0000
3"

1/4

"

1/4

"
2

1/2

"
1"

7/16

"

5/16

"
380
480
4,000 psi Concrete
External Hex

10
000000000
00000
1

3/4

"

3/8

"

5/16

"
1

1/2

"
1

1/2

"

9/16

"

3/8

"
490
850
4,000 psi Concrete
External Hex

10
000000000
00000
2

1/2

"

3/8

"

5/16

"
2

1/4

"
1

1/2

"

9/16

"

3/8

"
490
850
4,000 psi Concrete
External Hex

10
000000000
00000
3"

3/8

"

5/16

"
2

5/8

"
1

1/2

"

9/16

"

3/8

"
490
850
4,000 psi Concrete
External Hex

10
000000000
00000
4"

3/8

"

5/16

"
3

5/8

"
1

1/2

"

9/16

"

3/8

"
490
850
4,000 psi Concrete
External Hex

4
000000000
00000
5"

3/8

"

5/16

"
3

5/8

"
1

1/2

"

9/16

"

3/8

"
490
850
4,000 psi Concrete
External Hex

4
000000000
00000
6"

3/8

"

3/8

"
3

1/4

"
1

1/2

"

9/16

"

3/8

"
490
850
4,000 psi Concrete
External Hex

4
000000000
00000
3"

1/2

"

7/16

"
2

3/4

"
2

1/2

"

3/4

"

7/16

"
1,000
1,800
4,000 psi Concrete
External Hex

4
000000000
00000
4"

1/2

"

7/16

"
3

3/4

"
2

1/2

"

3/4

"

7/16

"
1,000
1,800
4,000 psi Concrete
External Hex

4
000000000
00000
5"

1/2

"

7/16

"
4

3/4

"
2

1/2

"

3/4

"

7/16

"
1,000
1,800
4,000 psi Concrete
External Hex

4
000000000
00000
6"

1/2

"

7/16

"
5

3/4

"
2

1/2

"

3/4

"

7/16

"
1,000
1,800
4,000 psi Concrete
External Hex

4
000000000
00000
2"

1/2

"

1/2

"
1

3/4

"
1

3/4

"

3/4

"

7/16

"
1,000
1,800
4,000 psi Concrete
External Hex

4
000000000
00000
2

1/2

"

1/2

"

1/2

"
2

1/2

"
1

3/4

"

3/4

"

7/16

"
1,000
1,800
4,000 psi Concrete
External Hex

4
000000000
00000
3"

5/8

"

1/2

"
2

1/2

"
2

3/4

"

13/16

"

5/8

"
1,900
3,300
4,000 psi Concrete
External Hex

1
000000000
0000
4"

5/8

"

1/2

"
3

1/2

"
2

3/4

"

13/16

"

5/8

"
1,900
3,300
4,000 psi Concrete
External Hex

1
000000000
0000
5"

5/8

"

1/2

"
4

1/2

"
2

3/4

"

13/16

"

5/8

"
1,900
3,300
4,000 psi Concrete
External Hex

1
000000000
0000
6"

5/8

"

1/2

"
5

1/2

"
2

3/4

"

13/16

"

5/8

"
1,900
3,300
4,000 psi Concrete
External Hex

1
000000000
00000
8"

1/2

"

1/2

"
4

1/4

"
1

3/4

"

3/4

"

7/16

"
1,000
1,800
4,000 psi Concrete
External Hex

4
000000000
00000
4

1/2

"

3/4

"

5/8

"
3

7/8

"
3

1/4

"

15/16

"

7/8

"
3,100
3,500
4,000 psi Concrete
External Hex

1
000000000
00000
5

1/2

"

3/4

"

5/8

"
4

5/8

"
3

1/4

"

15/16

"

7/8

"
3,100
3,500
4,000 psi Concrete
External Hex

1
000000000
00000
6

1/4

"

3/4

"

5/8

"
4

5/8

"
3

1/4

"

15/16

"

7/8

"
3,100
3,500
4,000 psi Concrete
External Hex

1
000000000
00000
8"

5/8

"

5/8

"
5"
2

1/2

"

13/16

"

5/8

"
1,800
3,300
4,000 psi Concrete
External Hex

1
000000000
0000
3"

3/4

"

3/4

"
3"
2

1/2

"
1

1/8

"

7/8

"
2,700
3,500
4,000 psi Concrete
External Hex

1
000000000
0000
4"

3/4

"

3/4

"
3"
2

1/2

"
1

1/8

"

7/8

"
2,700
3,500
4,000 psi Concrete
External Hex

1
000000000
0000
5"

3/4

"

3/4

"
4

1/4

"
2

1/2

"
1

1/8

"

7/8

"
2,700
3,500
4,000 psi Concrete
External Hex

1
000000000
0000
6"

3/4

"

3/4

"
4

1/4

"
2

1/2

"
1

1/8

"

7/8

"
2,700
3,500
4,000 psi Concrete
External Hex

1
000000000
0000
8"

3/4

"

3/4

"
4

1/4

"
2

1/2

"
1

1/8

"

7/8

"
2,700
3,500
4,000 psi Concrete
External Hex

1
000000000
00000
10"

3/4

"

3/4

"
4

1/4

"
2

1/2

"
1

1/8

"

7/8

"
2,700
3,500
4,000 psi Concrete
External Hex

1
000000000
00000