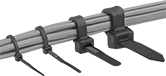 These ties are less likely to crack and break from dryness than regular cable ties.
Polypropylene ties won't get brittle, even in the driest conditions. They withstand most acids, alcohols, and salts. Nylon 12 ties are designed for use with solar panels, so they withstand prolonged UV exposure without becoming brittle. They resist most chemicals.
Narrow ties are highly flexible and conform to irregularly shaped material better than standard, wide, and extra-wide cable ties.
Standard ties balance flexibility and strength, making them good for most bundling applications.
Wide and extra-wide cable ties are stronger than narrow and standard cable ties. Use these ties for heavy duty applications that require extra strength.
Lg.

For

Max.


Bundle

Dia.

Breaking


Strength,

lbs.

Wd.

Thick.

For Use
Outdoors
Specifications
Met

Temp.




Range,

°F

Color

Pkg.




Qty.

Pkg.

Polypropylene Plastic

Narrow

4"

3/4

"
10
0.09"
0.04"
Yes
UL 94 HB
-75° to 230°
Black
100
00000000
00000

Standard

5

1/2

"
1

1/4

"
10
0.14"
0.04"
Yes
UL 94 HB
-75° to 230°
Black
100
00000000
00000
7

1/2

"
1

3/4

"
30
0.19"
0.05"
Yes
UL 94 HB
-75° to 230°
Black
100
00000000
00000
11

1/2

"
3"
30
0.19"
0.05"
Yes
UL 94 HB
-75° to 230°
Black
25
00000000
0000
14

1/2

"
4"
30
0.19"
0.05"
Yes
UL 94 HB
-75° to 230°
Black
25
00000000
00000

Wide

8"
2"
50
0.30"
0.07"
Yes
UL 94 HB
-75° to 230°
Black
25
00000000
00000
11

1/2

"
3"
50
0.30"
0.08"
Yes
UL 94 HB
-75° to 230°
Black
25
00000000
00000
14

1/2

"
4"
50
0.30"
0.07"
Yes
UL 94 HB
-75° to 230°
Black
25
00000000
00000

Extra Wide

9"
2"
90
0.50"
0.08"
Yes
UL 94 HB
-75° to 230°
Black
10
00000000
00000
20"
5"
90
0.50"
0.08"
Yes
UL 94 HB
-75° to 230°
Black
10
00000000
00000
22"
6"
90
0.50"
0.08"
Yes
UL 94 HB
-75° to 230°
Black
10
00000000
00000
28

1/2

"
8"
90
0.50"
0.08"
Yes
UL 94 HB
-75° to 230°
Black
10
00000000
00000

Nylon 12 Plastic

Standard

8"
1

7/8

"
40
0.18"
0.05"
Yes
UL 94 V-2
-40° to 200°
Black
10
00000000
0000
15"
4

1/4

"
40
0.18"
0.05"
Yes
UL 94 V-2
-40° to 200°
Black
10
00000000
00000
18"
5

1/4

"
40
0.19"
0.05"
Yes
UL 94 V-2
-40° to 200°
Black
10
00000000
00000